Thermal Imaging Camera suits process control applications.
Press Release Summary: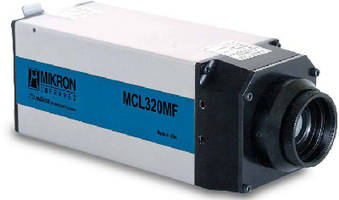 With 320 x 240 resolution, digital outputs, and streaming video, Mikron MCL320MF is intended for situations where thermal data is needed to interface directly with process control systems, without PC or external software interface. Unit detects thermal abnormalities without using multiple temperature sensors, and provides alarm notifications directly to process control system. Remotely mounted in protective enclosure, camera has no moving parts and is suited for harsh environments.
---
Original Press Release:

LumaSense Technologies Announces the Release of Its New Mikron MCL320MF Thermal Imaging Camera



November 4, 2008 - Santa Clara, CA - LumaSense Technologies, a leading provider of infrared thermography and non-contact temperature solutions with its Mikron Infrared products, today announced the release of its new Mikron MCL320MF thermal imaging camera.

The Mikron MCL320MF is the latest addition to the Mikron MCL-series of thermal imaging cameras and the first in its line of "smart" thermal imaging camera systems. The MCL320MF is a low cost, highly configurable thermal imaging camera for use in process control applications where comprehensive thermal data is needed to interface directly with process control systems, without the use of a PC or external software interface. With its 320x240 resolution, coupled with digital outputs and streaming video, it can detect thermal abnormalities in process applications without the use of multiple temperature sensors and provide alarming notifications directly to a process control system. The MCL320MF system can be mounted within harsh industrial process environments and communicate with the process control system. The MCL320MF takes into consideration key purchasing factors: overall cost of the system, integration support required and cost of ownership. It is one of the lowest priced imagers on the market and requires minimal set-up with maximum integration into the process control system (no custom software required). Since these units are remotely mounted within protective enclosures and have no moving parts, the maintenance is extremely low and the reliability is very high.

"The Mikron MCL320MF will allow for a cost-effective thermal imaging camera to be integrated directly into the process environment of our customers without the need of a computer interface. Through the use of a handheld remote, the camera can be configured to practically be plug-and-play into a customer's process control system," comments Brett Sargent, Vice President of Sales.

The MCL320MF can be used as a fully integrated system with MikroSpec(TM)RT software providing customers a complete configuration of their imaging system. The units can be housed in a variety of Mikron's industrial protection systems that include options such as air purge systems, thermally transparent windows, integrated heating and cooling, front plate cooling and many other unique characteristics -- all providing a seamless integration of a complete process control system with limited engineering related charges or custom program modifications.

This system is an excellent addition to LumaSense Technologies' well-established Mikron Infrared Process Imaging portfolio of products that include the M9200 designed for the Metals markets, the highly configurable M7500 and the recently announced Mikron MCL-160 thermal imaging camera for very cost effective process control applications.

About LumaSense Technologies(TM)

LumaSense Technologies is a global leader in providing quality sensor instrumentation to the clean tech, industrial, medical and energy markets. LumaSense is an operating company with a strategy to acquire other leading sensor instrumentation companies serving similar customers with complementary technologies and products. LumaSense's acquisitions are industry pioneers with hundreds of global customers: Luxtron Corporation - fiber optic temperature measurement sensors; Innova AirTech Instruments - trace gas monitoring and analysis; Andros - non-dispersive and dispersive infrared gas analysis; Mikron Infrared - non-contact temperature measurement, thermal imaging systems and blackbody calibration instruments. LumaSense Technologies is backed by Oak Investment Partners, a leading multi-stage venture capital firm with a 28-year history and DFJ Element, a leading venture capital investor in clean technology.

For more information:

LumaSense Technologies
Judi Seavers
j.seavers@lumasenseinc.com
ph: 408-235-3813
http://www.mikroninfrared.com/contentNoRight.aspx?id=2290