Thermal Imagers include 3D imaging capabilities.
Press Release Summary: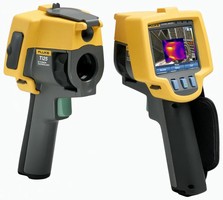 Fluke thermal imagers come standard with SmartView(TM) v2.0, a modular suite of tools for viewing, annotating, editing, and analyzing IR images. Users can download images captured with any Fluke thermal imager equipped with IR Fusion® and then analyze, optimize, and organize those images; add notes and comments; and create reports. Images, data, and analysis can be sent directly into PDF or MS Word document, and UI design/functionality facilitates use.
---
Original Press Release:

New Fluke SmartView(TM) 2.0 Thermal Imaging Software Features Industry-first 3D Capability



Easier-to-use, makes analysis and reporting simple

EVERETT, Wash. - Fluke Corporation, the global leader in handheld electronic test and measurement technology, today released a new 2.0 version of its SmartView(TM) software for Fluke thermal imagers featuring the first 3D imaging capability in the industry. The enhanced software gives users new options for optimizing and organizing thermal images and creating professional reports, and is easier to use. Fluke SmartView 2.0 software is a modular suite of tools for viewing, annotating, editing and analyzing infrared images and creating illustrated, customized reports. It comes standard with all Fluke thermal imagers, and regular upgrades are provided free of charge for the life of the product. "This software has significantly simplified analysis," said Al Hobbs, owner of Thermaview consulting in London, Ontario. Hobbs uses a Fluke thermal imager to perform thermographic building energy surveys and electrical system inspections. Producing quality illustrated reports is key to his success. "This SmartView 2.0 software has made report generation easier," he said. "The images, data and analysis go directly into a .pdf or MS Word document."

With SmartView 2.0, users can download images captured with any Fluke thermal imager equipped with IR Fusion®, the patent pending process whereby visible light images can be merged with infrared images, making identification and diagnosis of problems simpler. Once downloaded, users can analyze, optimize and organize those images, add notes and comments and create professional-quality reports in a few steps.

Among the key new features in SmartView 2.0:
o Thermal imaging in three dimensions, an industry first, is included with SmartView 2.0. Patent-pending Fluke 3D-IR(TM) can make hot spots appear to pop out of the background, so users can easily identify additional problem areas, examine the image from different perspectives, and eliminate false positives. In addition, users can draw a line across an image and automatically create a graph showing temperatures along that line.
o An updated user interface makes the software easier to use. Frequently used tools are easier to access and image-optimization tools are enhanced. For instance, users can now click on just one tab and accomplish what used to require four clicks. And users can now view the Fluke IR-Fusion visible light reference image side-by-side with the infrared image.
o New and enhanced reporting capabilities enable users to output reports directly in Microsoft Word or PDF formats. They can now use familiar MS Word tools to modify and add details to the report or check spelling. And users can now customize or create and save report templates to meet their specific job requirements.
Users who already own Fluke thermal imagers can upgrade to Fluke SmartView 2.0 by visiting the download page.

Fluke thermal imagers have many applications in a multitude of industries. New thermal imagers from Fluke, including the Fluke Ti25, Fluke Ti10, Fluke TiR1 and Fluke TiR Thermal Imagers, deliver more durability and performance at a lower price than ever before, bringing the benefits of thermography to the toolboxes of everyday technicians, contractors and building inspectors. Fluke IR-Fusion Technology IR-Fusion technology facilitates real time pixel-for-pixel merging of infrared and visual (visible light) images together on a single display. IR-Fusion captures infrared and visual (visible light) images and simultaneously displays the images fused together, adding a new dimension of detail that saves time and money and best conveys infrared information of each specific application and environment.

IR-Fusion makes it easier to identify details and potential problems by managing and analyzing images with complete control over both the infrared and visual spectrums. The ability to fuse and optimize images improves primary target identification, makes it easier and quicker to locate problems and offers a tremendous advantage in reporting clarity. Fluke Corporation

For more information on the full range of Fluke thermal imaging products, or to find the location of the nearest distributor, visit fluke.com/thermography or contact Fluke Corporation, P.O. Box 9090, Everett, WA USA 98206, call (800) 44-FLUKE (800-443-5853), fax (425) 446-5116, e-mail fluke-info@fluke.com or visit the Fluke Web site at: fluke.com.

About Fluke
Fluke Corporation is the leader in compact, professional electronic test tools. Fluke customers are technicians, engineers, electricians, metrologists and building diagnostic professionals who install, troubleshoot, and manage industrial electrical and electronic equipment and calibration processes for quality control as well as conducting building restoration and remediation services. Fluke is a registered trademark of Fluke Corporation in the United States and/or other countries. The names of actual companies and products mentioned herein may be the trademarks of their respective owners.

More from Adhesives & Sealants