Thermal Cycler utilizes in-situ hybridization adapter.
Press Release Summary: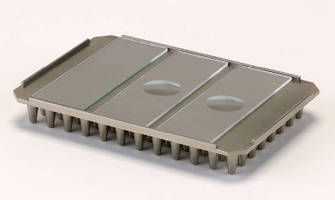 With In-situ Hybridization Adapter, Prime 96 x 0.2ml Thermal Cycler is instantly converted to in situ instrument capable of accommodating up to 4 standard size microscope slides with ±0.25°C block uniformity. Adapter consists of single piece of precision engineered aluminum that requires no maintenance, other than occasional cleaning. Design allows removal of glass slides via corner cut-outs, and aluminum perimeter ridge means it is completely compatible with thermal cycler lid.
---
Original Press Release:

Techne's New In Situ Hybridisation Adapter Delivers a Quick, Economical Solution for 96-well Thermal Cycler Owners



Staffordshire, UK – Techne has extended its Prime range of thermal cyclers with the addition of a new in situ hybridisation adapter. This new innovation allows users to utilise the high performance of the Prime 96 x 0.2ml thermal cycler in an even greater range of applications. By simply inserting the adapter, a standard thermal cycler is instantly converted to an in situ instrument capable of accommodating up to 4 standard size microscope slides with ±0.25°C block uniformity.



The in situ adapter is a single piece of precision engineered aluminium and, other than occasional cleaning with a mild laboratory detergent, requires no maintenance, making it convenient for busy multi-user labs. The design allows easy removal of glass slides via the corner cut-outs, and the aluminium perimeter ridge means it is completely compatible with the thermal cycler lid. This removes the risk of damage to glass slides and PCR samples if the lid is closed, especially useful in thermal cyclers with automatic or non-adjustable lids.



"For 96-well PCR machine owners wanting to run in situ hybridisation, it is usually necessary to purchase an additional thermal cycler - or at least a new thermal block - at significant expense," says Jim Bratherton, Techne Product Manager at Bibby Scientific.  "Techne's new in situ hybridisation adapter is an ideal solution to this problem, converting a 96-well thermal cycler to an in situ hybridisation instrument in one simple step."



The Techne in situ adapter offers the quickest and most economical solution for researchers wishing to run an in situ hybridisation in their existing 96-well instruments. The adapter can upgrade both new and existing thermal cyclers, and is available now with Bibby Scientific's two year warranty.



For more information, please visit the thermal cycler section of www.techne.com.



www.bibby-scientific.com



About Bibby Scientific

One of four new companies established by Nova Capital from the former Barloworld Scientific business, acquired in November 2007, Bibby Scientific Limited focuses on the design, manufacture and distribution of four world-leading benchtop laboratory equipment brands: Jenway®, Stuart®, Techne® and Electrothermal®.



The 2011 acquisition of Electrothermal®, market leaders in heating mantle design and manufacture, adds an extensive range of outstanding products which complement Bibby Scientific's broad-based portfolio.



All four brands are available through good laboratory distributors worldwide. Bibby Scientific Ltd has subsidiaries in the USA, France and Singapore, as well as an associated company in the Middle East.



For press information, please contact:

Phoenix MarCom Ltd.

Tel: +44 (0)1480 471045

Fax: +44 (0)1480 471056

claire.england@phoenixmarcom.co.uk



Please send sales enquiries to:

Bibby Scientific Ltd.

Beacon Road

Stone, Staffordshire, ST15 0SA, UK

Tel: +44 (0)1785 812121

Fax: +44 (0)1785 810405

info@bibby-scientific.com



www.techne.com

www.bibby-scientific.com