Thermal Clamping System grips and releases tool shanks.
Press Release Summary: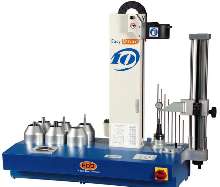 Using induction heating, EPB EasyShrink(TM) 10 provides shrink grip and release of cutting tool shanks in as fast as 2 sec. Compact, self-contained unit exerts uniform pressure around entire surface of tool shank; one induction heating coil covers tool shank diameter of 1/8-1.25 in. for carbide and heavy metal and ¼-1.25 in. for steel and HSS. Stop rod height setting system facilitates setting of cutting tool position without requiring stop screws.
---
Original Press Release:

Seco-Carboloy's New EasyShrink(TM) 10 Thermal Clamping System Helps Boost Productivity And Improve Quality Of Metalcutting Tools


Chicago, Ill, Sept. 8, 2004 - Seco-Carboloy introduced at IMTS 2004 its EPB EasyShrink(TM) 10 thermal clamping system complementing the company's new line of Monobloc shrink-fit toolholders. The new EasyShrink 10 unit uses induction heating to provide rapid shrink grip and shrink release of cutting tool shanks as fast as 2 seconds. The compact, easy-to-use, self-contained EasyShrink 10 unit provides safe and convenient clamping and release of a full range of tool shank materials including carbide, heavy metal, steel and HSS.

High clamping forces are achieved using the EasyShrink system because powerful, uniform pressure is exerted around the entire surface of the tool shank providing rigidity similar to a solid tool. Torque transfer is maximized while tool run-out is minimized permitting a better balanced chip load with improved surface finishes on machined components. Higher spindle speeds and feeds are possible, reducing cycle time and machining costs.

A single induction heating coil on the EasyShrink 10 unit covers a diameter range of 1/8 to 1.25 inch for carbide and heavy metal, and 1/4 to 1.25 inch for steel and HSS tool shanks. The coil is safely and rapidly positioned over the tool clamping area using pneumatic actuation. The unit's integrated processor automatically matches the correct power level to the holder's selected diameter to prevent overheating and to minimize energy consumption. With the EasyShrink 10 unit, the tool shank is safe to handle immediately after the clamping cycle is
complete, regardless of which integrated cooling method is incorporated-fan-assisted, vortex or liquid.

A stop rod height setting system that is incorporated in the EasyShrink 10 unit allows easy setting of the cutting tool position without the need to use stop screws which can risk tool deformation. An optional digital height setting attachment is also available.

The compact, rigid EasyShrink 10 unit is designed to be used near machines in the shop by operators with minimal training to provide safe and efficient clamping of cutting tool holders to help improve the productivity, quality and cost-efficiency of tool setting operations.

For more information on the new EPB EasyShrink(TM) 10 thermal clamping system, contact Seco-Carboloy, 11177 East Eight Mile Road, Warren, Mich. 48089. Tel: 800-832-8326 or visit www.carboloy.com.

Seco-Carboloy is a leader in metalworking technology and offers solutions in milling, turning, holemaking and threading. The company is committed to solving its customers' ever-increasing demands for greater productivity, quality and cost-effectiveness and was selected as the 2003 ISMA Value-Added Partner of the Year in the manufacturing category for saving customers over $40 million over a two-year period. Seco-Carboloy markets its full range of cutting tools and related accessories through a network of over 400 authorized distributors in the United States, Canada and Mexico.

More from Material Processing