Thermal Circuit Breakers range from 10-50 amps.
Press Release Summary: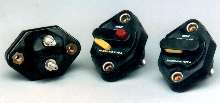 Mid-Range 250 Series consists of Automatic Reset, Manual Reset, and Manual Reset with Push-to-Trip circuit breakers. All are formed with rounded profile body and cover boss that allows 3-hole panel cutout mounting. Available with 10-32 stud terminals and nuts, breakers are produced with corrosion-resistant material. Cover assembly with over mold gasket allows for integrated breaker-to-panel splash proofing. Branch Protection Interrupt Rating is 2.5 kA per ABYC E-9.
---
Original Press Release:

Cooper Bussmann Automotive Products Introduces New Mid-Range Thermal Circuit Breakers


Bussmann Automotive Products, a division of Cooper Industries, Wood Dale, Illinois, now has available a new standard class of thermal circuit breakers. The new product family is called the Mid-Range 250 Series. Developed by Cooper Bussmann primarily for the marine industry, medium duty chassis industry and for specialized vehicles.

The new Mid-Range 250 Series is available in three versions: Automatic Reset, Manual Reset and Manual Reset with Push-to Trip. The extra push-to-trip feature allows the opening of a circuit path without disconnecting it from the power source.

All versions are available in amperages from 10A through 50A, and are formed with a rounded profile body and cover boss that allows an easy 3-hole panel cutout mounting. Available with 10-32 stud terminals and nuts, the Mid-Range Series is produced with corrosive resistant material; stainless steel lock nuts are optional. Additional features included in this new offering include:
o Ignition Protected (ABYC E-9/SAE J 1171)
o Branch Protection Interrupt Rating (2.5k A per ABYC E-9)
o Cover assembly with over mold gasket allows for integrated breaker-to-panel splash proofing.
o Same standard mounting centers used by other manufacturers. (1.574"/40mm)
o Two formats for mounting:
- Eyelets for 10-32 clearance
- Threaded inserts for 8-32 clearance

Cooper Bussmann, a division of Cooper Industries, manufactures and markets circuit protection products for the electrical, electronic and automotive industries, domestically and internationally. Headquartered in St. Louis, Mo., Bussmann has manufacturing facilities in three domestic and eight international locations and approximately 3,000 team members worldwide. Cooper Industries, with 2002 revenues of $4.0 billion, is a worldwide manufacturer of electrical products, tools and hardware. Additional information about Cooper is available on the Company's Internet site: www.cooperindustries.com

For more information about Mid-Range Series 250 Circuit breakers, contact:
Mr. Chris Osmun, Director of Sales and Marketing
Cooper Bussmann, Automotive Products
175 Hansen Court
Wood Dale, Illinois 60191
Phone: 630-422-2400
Fax: 630-422-2466
Toll Free Voice: 1-800-227-8732
Toll Free Fax: 1-800-832-9873
E-mail: info@bussauto.com
Website: www.bussauto.com

More from Computer Hardware & Peripherals