Thermal Analysis System records temp, velocity, and pressure.
Press Release Summary: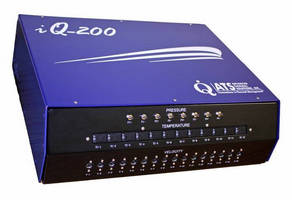 Used to profile heat sinks, components, and PCBs, iQ-200(TM) simultaneously measures temperatures for solid materials and surrounding air in addition to tracking air velocity and air pressure at multiple points. Laboratory instrument accommodates inputs from up to 12 J-type thermocouples, 16 air temperature/velocity sensors, and 4 DP sensors. USB interface allows PC-based data management, storage, and sharing, while software manages incoming data and provides graphic presentation.
---
Original Press Release:

Laboratory Instrument Measures and Records Temperature, Velocity and Pressure at Same Time



Norwood, MA - Advanced Thermal Solutions, ATS, has released the iQ-200(TM) thermal analysis system for precisely and simultaneously measuring the temperatures of solid materials and the surrounding air, as well as tracking air velocity and air pressure at multiple points to comprehensively profile heat sinks, components and PCBs.

The iQ-200 is the first laboratory instrument that simultaneously captures data from up to 12 J-type thermocouples, 16 air temperature/velocity sensors, and 4 differential pressure sensors.

The thermocouples provide surface area temperature measurements on heat sinks, components, housing parts and other locations to track heat flow or detect hot spots. Temperature data is recorded from -40 to 750°C. Air temperature and velocity are measured by up to 16 low profile ATS candlestick sensors which can be placed throughout a system. Air temperature is tracked from 20 to 65°C and air velocity is measured from 0 to 6 m/s (1200 ft/min). The differential transducers capture pressure drop data along circuit cards, assemblies and orifice plates. Pressure measurements are taken from 0 to 0.15 psi (0 to 1,034 Pa).

The iQ-200 system comes preloaded with user-friendly iSTAGE(TM) application software. iSTAGE manages the incoming data from multiple sensing devices, and provides rich graphic presentation on monitors and documents. The iQ-200 connects via USB to any conventional PC for convenient data management, storage and sharing.

The iQ-200 can be factory modified at ATS to measure higher airflows, up to 50 M/s (10,000 ft/min), and air temperatures to 85°C.

List price for the iQ-200 thermal analysis system from ATS is $24,500, including 12 J-type thermocouples, 16 candlestick sensors and 4 differential pressure sensors. More information on the iQ-200 system is found on Qats.com or by calling 781-769-2800.

About Advanced Thermal Solutions
Advanced Thermal Solutions is a leading engineering and manufacturing company supplying complete thermal and mechanical packaging solutions from analysis and testing to final production. ATS provides a wide range of air and liquid cooling solutions, laboratory-quality thermal instrumentation, along with thermal design consulting services and training. Qats.com

More from Electronic Components & Devices