Thermal Adhesive Film provides electrical insulation.
Press Release Summary: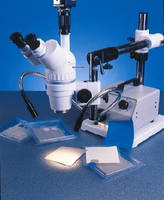 Formulated to function as preferential heat-transfer path between heat-generating components and heat sinks or other cooling devices, FL901AO epoxy film can cure in 1 hr at 250°F or 30-40 min at 300°F. B-stage, 100% solid adhesive-preform offers thermal conductivity of 10 BTUoin./ft²hr°F and volume resistivity exceeding 10 x 10
12
W-cm, providing no-mess solution to electronic assembly and other industrial bonding and sealing operations.
---
Original Press Release:

Thermally Conductive Epoxy Film Offers Enhanced Electrically Insulating Performance



Hackensack, NJ, September 30, 2009 - Master Bond has introduced a thermal adhesive film called FL901AO. It is formulated to function as the preferential heat-transfer path between heat-generating components and heat sinks or other cooling devices. The 100% solid, B-stage adhesive-preform provides a high bond strength, no-mess solution to electronic assembly and other industrial bonding and sealing operations. An attractive characteristic of the FL901AO epoxy preform is its ability to cure quickly at quite moderate temperatures, e.g. 1 hour at 250°F (125°C) or 30-40 minutes at 300°F (150°C). Also, squeeze out during bonding is almost non-existent. While FL901AO exhibits a thermal conductivity on a level of 10 BTUoin/ft²hr°F, it is highly electrically insulating, with volume resistivity exceeding 10x1012 ohm-cm. The properties of FL901AO are substantially maintained over a wide temperature range from -100°F to 400°F and upon prolonged exposure to harsh environmental conditions such as moisture, heat and other chemicals. It also features outstanding resistance to thermal shock, vibration and impact.

Master Bond's FL901AO film preform is available in a range of film thicknesses and can be laser or die cut to the configuration of any part. Master Bond also offers the extra service of applying the preformed epoxy film directly onto parts and then returning them to the end user for assembly.

More about Master Bond's Film and Preform Adhesives:

Master Bond, a leading adhesive manufacturer, offers advanced film and preform epoxy adhesives designed to provide rapid mass-production, no-mess solutions for electronics packaging. Epoxy film and preforms are clean, consistent, and quickly dispensed providing high quality, uniform results.

Read more about Master Bond's Epoxy Films and Preforms: www.masterbond.com/prodtype.html#pfilm or contact: Technical Support. Phone: 201-343-8983 Fax: 201-343-2132 E-mail: technical@masterbond.com

Master Bond-154 HOBART STREET HACKENSACK, NEW JERSEY 07601-3922 TEL: 201-343-8983 FAX: 201-343-2132

Visit our WEBSITE at http:/www.masterbond.com or E-Mail us at Main@Masterbond.com

More from Adhesives & Sealants