Thermal Absorber Head measures power of q-switched YAG lasers.
Press Release Summary: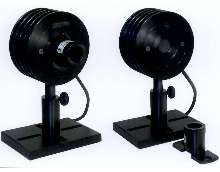 Volume Absorbing Head, Model 30(150)A-HE-DIF offers average power measurements up to 30 W, continuous or 150 W, intermittent. Energy density rating is 5 J/cm² for 1064 nm, and max average power density is 500 W/cm². Unit provides 3 digital power scales of 3, 30, and 150 W and response time of 4 sec. Information is stored in EEPROM of absorber head and downloaded when display is attached and turned on, making all heads plug-and-play ready.
---
Original Press Release:
New Thermal Absorber Head Designed with High Damage Threshold for Higher Energy Q Switched YAG Lasers

Danvers, MA January 2003. To meet the need of high energy pulsed lasers, Ophir Optronics, Inc. announces the release of a new high performance Volume Absorbing head. The Model 30(150)A-HE-DIF detector head is designed specifically for high energy output measurements from the newest high power Q switched YAG lasers.

The Model 30(150)A-HE-DIF head offers average power measurements up to 30 Watts of continuous or up to 150 Watts of intermittent measurement capability. The energy density rating is 5J/cm² for 1064nm. These high ratings are obtained by using a "Diffuser IN" and "Diffuser Out" technique to spread out the concentrated pulsed beam. The loss through the diffuser is stored in the EEROM of the connector. The maximum average power density is 500W/cm². In addition, the Model 30(150)A-HE- DIFF offers three digital power scales: 3W, 30W and 150W, and a response time under 4 seconds. The head information is stored in the EEROM of the absorber head and is downloaded when the display is attached and turned on, making all heads plug-and-play ready. The head is compatible with all the Ophir, Laserstar series displays as well as a USB interface box that allows users to connect the head directly to their PC.

The Company

For more than 20 years, Ophir Optronics, Inc. has set the standard for the measurement of laser power and energy. Ophir, an ISO 9002 company, employs over 120 engineers, technicians and skilled workers. The company manufactures optical instrumentation, optical components and non-contact optical equipment for distance measurement and three-dimensional mapping of objects. The company's products are sold worldwide in over 25 countries. Ophir maintains marketing, sales and service centers in the USA, Japan, Israel and Germany.

Contacts: Dick Rieley (Ophir Optronics, Inc.)

Tel: 800-383-0814

Fax: 978-774-8202

E-Mail: sales@ophiropt.com

URL: www.ophiropt.com

More from Electronic Components & Devices