The Space Saver: MICRON MACRO Profile Grinding Machines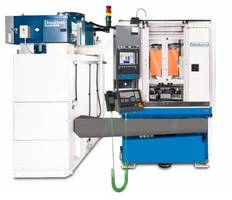 We, the Precision Surfacing Solutions Group, including the MICRON brand, understand our responsibility for continuous research and development to remain a leader in achieving high-precision and optimum solutions for our customers.
The MICRON MACRO series comprises the compact profile and creep-feed grinding machines of the Precision Surfacing Solutions Group.
Precise surface machining with high stock removal rates
Wherever high-precision profiles are cut into work pieces and high surface quality must be achieved, the MICRON MACRO series provides machines that combine reliability, precision, and efficiency with smallest space requirements.
Machine concept
The "Moving Wheel Head" technology (MWH) arranges the longitudinal axis in vertical orientation behind the machine bed in a space-saving layout. All linear movements during positioning and grinding are performed by the grinding head. This results in optimum force distribution and minimal thermal variation during grinding.
The torque tube design ensures an extremely torsion-resistant machine bed with outstanding vibration characteristics, which guarantees high stock removal rates and stable process results over a long period.
The nearly universal design enables a wide range of applications: High-performance grinding of linear guides, saw tooth profiles, tooth bar profiles, guide rails for actuators, annular gears, tooth plates, and clamping tools with profile as well as broaching tools. Steering systems and rockers are machined for the automotive industry. High-strength ceramic components as well as rotors and stators for the hydraulics industry are further application examples.
Technical data
Dimensions (H × W × D) (mm) approx. 1500 - 2400 × 2600 - 2855 × 2400 mm
Weight (kg) approx. 8000 kg
X-travel (mm) 300 - 900 mm*
Y-travel (mm) approx. 350 mm*
Z-travel (mm) approx. 300 mm*
Spindle (KW) 11–37
Spindle speeds (rpm) 3200 / 4500 / 16000
Max. grinding wheel diameter (mm) 400 mm*
Max. grinding wheel width (mm) 150 mm
*Maximum grinding wheel diameter and travel can change due to workpiece and fixture.
Automation
Based on their design, MICRON machines are well suited for connection to an automation solution. An integrated indexing tale ensures grinding while work pieces are loaded and unloaded.
We are experts in linear and robot-based automation solutions.
Your advantages
Reliability, efficiency, and precision in the most compact space possible
Contact This Company Download Spec Sheet
More from Machinery & Machining Tools