The Shortening Shuttle®: A Safe, Efficient way to transport hot waste oil invented in Worcester Massachusetts.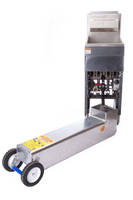 The Shortening Shuttle® was invented by Gary Heissen from Auburn Massachusetts. At the time he was operating a restaurant cleaning business. Seeing how Hot waste oil was being transported, he knew there must be a better way. So, around 1987 the Shortening Shuttle® was conceived. In 1989 the Shortening Shuttle® was purchased and patented by David T. Hawley who was responsible for much of the design and production details Hawley formed Worcester Industrial Products Corp located in Worcester Massachusetts. Since then, demand has steadily grown. Every day we UPS ship Shortening Shuttles® all over the United States, Canada and occasionally around the world.

Over the years we have developed new models to accommodate the different fryer drain heights and different dumpster heights.

Our Mission

Our mission is to eliminate the headaches, mess, and bucket burn hazards associated with changing HOT waste oil from deep fat fryers. Our goal is to make the job of changing hot waste fryer oil safe, simple, swift and cost effective. We want to take the "yuck' out of changing fryer oil.

More from Cleaning Products & Equipment