The Scale Tape Solution for a Wide Variety of Applications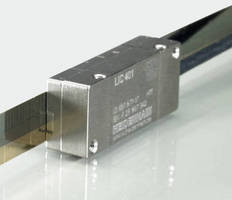 HEIDENHAIN's LIC 4000 Absolute Linear Encoder

SCHAUMBURG, IL - Incorporating absolute technology to a multi-substrate scale tape linear encoder design, HEIDENHAIN offers the versatile LIC 4000. Besides its capability of absolute position measurement, this encoder is characterized by its high resolution of 1 nanometer and its fast, purely serial EnDat 2.2 interface. It will be featured at the upcoming SEMICON show in San Francisco (July 13 - 15) in HEIDENHAIN booth # 820.

Absolute encoders, which provide the current position immediately upon switch-on, offer high technological reliability and safety because they can do so without the reference runs that would otherwise be necessary. Absolute encoders are especially well suited for use on direct drives. Together with the current position, the commutation offset is known immediately upon switch-on and the motor can immediately be provided with power and held in the control loop. Critical operating states, such as switching on a vertical axis with direct drive or retraction after an emergency stop, are controlled safely.

Thanks to their specialized scanning technologies, these LIC 4000 encoders with up to 27 meters of measuring length are insensitive to contamination and therefore guarantee a high degree of equipment availability and a high traverse speed, while at the same time achieving a high resolution. The dimensions of the LIC 4000 match those of the HEIDENHAIN LIDA 400 incremental linear encoder, which has already successfully established itself on the market. This makes it possible to easily retrofit today's machine tools to absolute measurement technology by exchanging the encoders. Only the subsequent electronics must be adapted correspondingly.

Exposed linear encoders from HEIDENHAIN are characterized by their high accuracy together with customer-friendly mounting tolerances, high traversing velocity, and low height of the scanning head.

For more information, contact HEIDENHAIN at (847) 490-1191, or write to us at HEIDENHAIN CORPORATION, 333 E. State Parkway, Schaumburg, IL 60173. HEIDENHAIN can also be accessed directly via our web site at www.heidenhain.com.

HEIDENHAIN CORPORATION is the North American subsidiary of DR. JOHANNES HEIDENHAIN GmbH, a leading international manufacturer of precision measurement and control equipment. Our product line includes linear scales, rotary and angular encoders, digital readouts, digital length gages, CNC controls and machine inspection equipment.

More from Mechanical Components and Assemblies