The RIDGID® SeeSnake® Compact2 Camera Reel and CS6Pak Digital Recording Monitor Team up to Get Results Quicker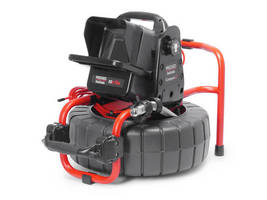 The RIDGID® SeeSnake® Compact2 Camera Reel and CS6Pak Digital Recording Monitor Team Up To Get Results Quicker



ELYRIA, OHIO – The new RIDGID® SeeSnake® CS6Pak Digital Recording Monitor, combined with the Compact2 Camera Reel, allows users to generate high-quality multimedia for thorough and efficient reporting.



The SeeSnake Compact2, which delivers a host of new features and technologies, is a fully featured update to the popular SeeSnake Compact. The Compact2 is equipped with a 100-feet friction-reducing push cable, which is ideal for small or restricted lines ranging from 1.5 - 6 inches. The one-inch self-leveling camera head provides exceptional image quality and its short body length allows it to maneuver through tight turns with ease. When a point of interest has been found in the pipe, the integrated 512 Hz sonde transmits a powerful signal that can be located with a RIDGID SeekTech receiver.



Ideal for residential or commercial work, the CS6Pak provides the ability to quickly capture photos and video clips directly to a USB drive. Features include one-touch recording for the efficient documentation of inspection jobs and a daylight viewable display and water-resistant keypad. Using software, reports can be edited, archived and delivered by print, DVD or email. The on-screen keyboard allows custom job information and text notes to be included and an integrated microphone and speaker allows audio to be added.



The factory-installed docking system makes it easy to mount the SeeSnake CS6Pak Digital Recording Monitor on the Compact2. When mounted, the CS6Pak can be tilted to the desired angle for easy viewing during operation. The docking system makes carrying easier by allowing the entire inspection system to be moved in one hand. If the situation requires positioning the CS6Pak away from the Compact2, the monitor can be released with a half-turn of the quick-release knobs. The Compact2 can be used with all SeeSnake monitors.



For additional information about the RIDGID SeeSnake CS6Pak Digital Recording Monitor and Compact2 Camera Reel and the full line of RIDGID Diagnostics and Inspection products, please visit www.RIDGID.com, call toll free: 1-800-769-7743, or contact RIDGID, 400 Clark St., Elyria, Ohio 44035 U.S.A.



About RIDGID®



RIDGID®, a leading manufacturer of innovative tools and equipment for the professional trades, markets its products in more than 140 countries. The company's broad offering of more than 300 types of tools, including RIDGIDConnect™, an online business tool, serves the rental, plumbing, HVAC/R, utility, industrial, electrical, petroleum, institutional, commercial and hardware markets. RIDGID is part of Emerson Commercial & Residential Solutions, a business of Emerson, which brings technology and engineering together to design and produce some of the highest-quality tools and equipment in the world. From wet/dry vacs to the industry's best-selling pipe diagnostic system, key brands include RIDGID®, PROTEAM® and InSinkErator®.



Like RIDGID on Facebook and follow us on Twitter.



About Emerson



Emerson (NYSE:EMR), based in St. Louis, Missouri (USA), is a global leader in bringing technology and engineering together to provide innovative solutions for customers in industrial, commercial, and consumer markets around the world.  The company is comprised of five business segments: Process Management, Industrial Automation, Network Power, Climate Technologies, and Commercial & Residential Solutions.  Sales in fiscal 2013 were $24.7 billion.  For more information, visit www.Emerson.com.



Please send reader inquiries to: RIDGID, c/o Ultimate Lead, P.O. Box 739, Berea, OH 44017-0739. Or call 1-800-769-7743 for more information.





More from Adhesives & Sealants