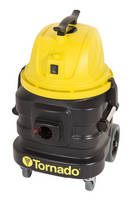 Tornado Industries introduces the perfect 10 when it comes to commercial wet-dry vacuums. Tornado's Taskforce 10 is a ten-gallon wet-dry vacuum available in polyethylene or stainless steel body with a powerful 1.61 hp vac motor generating 114 cfm and 90 inches of waterlift.



Use the Taksforce10 for vacuuming up dry debris as well as safely removing liquids such as cleaning solution/residue whem floor scrubbing and stripping. The 10 can also be used for a variety of general cleaning and maintenance tasks throughout a facility.



For more information, visit www.tornadovac.com or call toll-free: 800-VACUUMS.

More from Cleaning Products & Equipment