Room / Space Partitions and Dividers
The Mid-South Ice House in Memphis, TN, Selects Scranton Products' Resistall Restroom Partitions to Stand Up to Hockey, Kids, and Crowds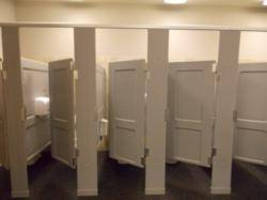 The Mid-South Ice Rink in Memphis, TN, selected Scranton Products' Resistall bathroom partitions to stand up to hockey teams and the general public.



The owners of the Mid-South Ice House, with concerns about keeping the arena facilities in shape under rigorous usage, decided to go with Scranton Products' Resistall bathroom partitions to stand up to the crowds of skaters and hockey players.



With dawn to nighttime activity from minor league hockey, private leagues, rambunctious kids and the general public, Keith Saunders, Sr.,owner of Division 10, a provider of construction specialty products, said the facility had to be built to last and take punishment at almost every level. "We specified the strongest and most durable materials for use throughout the Ice House," explains Saunders. "That particularly included the restrooms, where we installed Resistall™ Partitions from Scranton Products. We knew we needed long-lasting toughness and based on my prior experience with the product line, Resistall was the logical choice."



A leading provider of unique and attractive interior partitions over the past 25 years, Scranton Products offers an assortment of HDPE products in variety of colors and textures. In addition, the company's Resistall Partitions are especially designed to never need painting. Unlike metal partitions which are subject to rust, they offer superior resistance to dents, scratches, graffiti, corrosion, mildew and moisture, saving on maintenance costs. Another benefit is that they are very easy to clean and naturally resistant to bacteria. 100 percent recyclable, they are also Children & Schools GREENGUARD® Indoor Air Quality Certified.



"We selected the partitions from Scranton Products because they fit into this overall vision," said Al Austin, co-owner of the Mid-South Ice House and a general contractor by trade. "They install quickly, are easy to maintain and extremely hard to dent as opposed to metal partitions. Plus, the pricing fit our budget and they continue to look attractive.



The gray Resistall Partitions were used in 15 stalls and we haven't had a problem yet. In fact, I would be surprised if any arose since I installed several of them myself." Austin added, "This arena is my passion. I spent years developing this project and was deeply involved in every aspect of its planning and construction. I'm proud of what we accomplished and of the ability to provide our local Memphis residents with an ideal, year-round venue for participating in hockey, figure skating and all ice-related activities." Visit http://www.scrantonproducts.com.



About Scranton Products:

For more than 25 years our premium brands have led the plastic partitions market setting new benchmarks for the industry in quality and delivery. In fact, Scranton Products is the only manufacturer of plastic partitions that ships in as little as five days. Our well-known brands, including Hiny Hiders®, Resistall™ and Tufftec®, feature the most durable, low maintenance and best looking partitions, lockers and industrial sheet products in the industry. They won't dent, rust or need painting, and because they have color throughout, delamination is not a factor. For more information, visit http://www.scrantonproducts.com.





More from Services