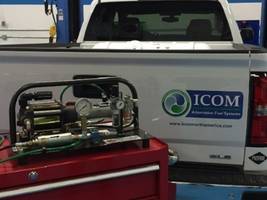 NEW HUDSON, Mich., Nov. 1, 2016 - The Icom Propane Evacuation Pump has an excellent 12 year history of safely, rapidly and efficiently removing propane from vehicle tanks without venting or wasting gas. Hundreds are in use in the USA, Europe, Australia and Asia since 2004.
Portable unit
Total evacuation of propane from tank
Air operated
Light Weight
Easy accessibility for onsite draining
Available with or without storage tank
While the Icom Liquid Injection System with its external pump rarely needs evacuating, many other previous generation Liquid Injection Systems with pumps inside the tanks still do. The Icom Prime will allow complete evacuation of propane from the tanks, effectively depressurizing the container and allowing safe access for service. The unit also accomplishes the safe transfer of propane into another container which may be switched back into the original tank saving time and money.
The Icom Prime is especially applicable for school bus propane tanks.
About ICOM North America:
ICOM North America has been leading the way as the premier world-class manufacturer in the propane industry for over 30 years. Located in New Hudson, Michigan, the company manufactures, assembles and distributes its products – including the patented ICOM JTG Liquid Injection Propane vehicle system and JTGhp Direct Injection Liquid Propane Systems – throughout North and South America. Additionally, ICOM North America works closely with its OEM Partners to bring more engine platforms to the North American market. www.icomnorthamerica.com 248-573-4934
SOURCE Icom North America, LLC
CONTACT:
Albie Venezio
Vehicle Technical Manager
248.838.8726,
Web Site: http://www.icomnorthamerica.com
More from Agricultural & Farming Products