The eXact Micro 7+ Photometer Wins Award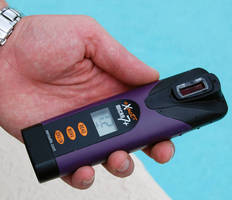 The eXact Micro 7+ photometer named Top 50 Products of 2009 by Pool & Spa News Magazine

The readers of the leading consumer and business trade magazine, Pool & Spa News, selected the eXact® Micro 7+ photometer as one of "The Top 50 Products of 2009." The annual reader's choice award recognized the eXact® Micro 7+ for its accurate and reliable on-site water testing results. Using our patented procedures (US Patents #7333194, #7491546), the eXact Micro 7+ photometer tests for 36 water parameters using test strips. No color matching is required to determine water quality levels and testing is done with exact results in under a minute. The meter directly reads Free and Total Chlorine, Bromine, pH, Total Alkalinity, Calcium Hardness, Copper and Transmission. In transmission mode the meter reads 27 additional parameters including Cyanuric Acid, Manganese, Iron, Nitrate, Hydrogen Peroxide and Ozone. The eXact® Micro 7+ photometer is water proof (IP-67) and built to last because it comes with a 5 year warranty. Compliance with EPA, ISO and DIN specifications for Chlorine testing attests to the meter's quality specifications.

About Industrial Test Systems, Inc., (ITS)

Industrial Test Systems, Inc., (ITS) established in 1989, is a leading manufacturer of instruments and chemistries designed to test water quality parameters. ITS services industries such as municipal water treatment, food & beverage, trucking & automotive, pond & aquarium, pool & spa, educational, and medical diagnostics. ITS developed over 70 tests and proprietary chemistries many covered by our U.S. Patents and ETV/USEPA performance verified tests. ITS developed the first and only USEPA approved test strip. For more information on our line of testing products, contact Industrial Test Systems, Inc. at 1-800-861-9712, 1-803-329-9712. Visit us on the web at www.sensafe.com, or by email at its@sensafe.com.­

About Pool & Spa News

Pool & Spa News is owned by Hanley Wood LLC, the leading business-to-business media company serving the pool and spa, housing and construction industries. Hanley Wood has over 500 employees and generates more than $160 million in annual revenue. Pool & Spa News' Editorial, Sales and Production teams produce the twice-monthly magazine, Web site, multiple supplements, the Ultimate Tech Manual, an annual Directory and industry certification through our Professional Curriculum. In surveys, the industry consistently names Pool & Spa News as its leading source for industry news and information.


More from Mechanical Power Transmission