Cleaning Compounds and Chemicals
The Cost-Effective AutoVac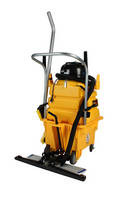 The OmniFlex™ system from Kaivac can be transformed in minutes into an automated, high-performance floor machine that rivals an autoscrubber—at a fraction of the cost.



Perfect for building service contractors and in-house cleaning professionals, the AutoVac system effectively deep cleans hard-surface floors such as those found in hallways, cafeterias, lobbies, warehouses, and fitness areas in all types of facilities. Compared to a traditional autoscrubber, the AutoVac not only costs less to buy but costs a lot less to own and maintain as well.



For more information, visit www.kaivac.com or call toll-free: 800-287-1136.







More from Cleaning Products & Equipment