The Centrisys/ CNP THK Sludge Thickener Improves Municipal and Industrial Wastewater Applications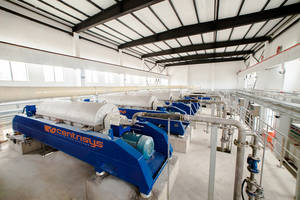 With eight purchase orders in the last 3 months, the company's sludge thickener has been used in several wastewater treatment facilities and wineries.
In the last few years, the U.S. has undergone a series of innovations and technology advancements. These changes have impacted several industries, leading them to save energy and resources. One such industry is wastewater treatment. Seven wastewater treatment plants in San Antonio, TX; Lincoln, NE; Belvidere, IL; Grandville, MI; Fargo, ND; University of Florida, Beijing airport and an East coast winery have benefited from the Centrisys/CNP THK sludge thickener. It offers proven performance with lower life cycle costs, less or zero polymer, higher G-volume for higher capacity and less redundancy, as well as up to 50% less power consumption compared to standard dewatering centrifuges.
"I'm surprised it's taken this long for other treatment plants to see the value of this piece of equipment. The Kenosha WWTP (Wastewater Treatment Plant) installed our first THK200 in 2011. This one machine replaced four DAFT units, operated 24/7 using no polymer and achieved 5% TS cake and 95% capture. In 2015, we upgraded our plant process and now have an additional THK200 for primary sludge. With this THK, we doubled our solids concentration and cut in half the amount of water sent to the digesters," said Melissa Arnot, P.E. Director of Operations at Kenosha Water Utility.
The basis of the THK design highlights what Centrisys is best known for – centrifuges. This sludge thickener is not a modified dewatering centrifuge, which is typically what happens when a conventional dewatering centrifuge is used for thickening sludge. The THK sludge thickener is designed and built specifically to thicken both primary and waste activated sludge using the fundamental principles of a centrifuge, DAFT and Rotary Drum Thickener.
According to Centrisys/ CNP's CEO, Michael Kopper, "Equipment in this industry should last for decades. Those decision makers who understand the increasing importance of lower lifecycle costs and higher process efficiencies are clearly making the right choices for their plants and ultimately rate payers and our environment." 
Visit Centrisys/CNP at WEFTEC 2018, booth #4921.
Centrisys Corporation is a U.S.A. manufacturer of dewatering centrifuges, sludge thickeners and complete dewatering systems for municipal and industrial wastewater. The company's focus is centrifuge equipment, including the award winning THK sludge thickener. Centrisys provides global service, repair and parts for all brands of centrifuges. CNP - Technology Water and Biosolids designs and supplies nutrient recovery and biosolids treatment optimization systems. CNP's key technologies are: AirPrex® and CalPrex™, phosphorus recovery technologies, and PONDUS™, a Thermo-Chemical Hydrolysis Process (TCHP). CNP is a division of Centrisys Corporation.
For more information, please contact:
Centrisys Corporation
9586 58th Place
Kenosha, WI 53144
262-654-6006
Jessie Jones, Marketing Associate
Email: [email protected]
Website: www.centrisys.com
PR agency contact: Tim Daro 847-934-450