The Case for Micropitch Transfers… and when they make sense.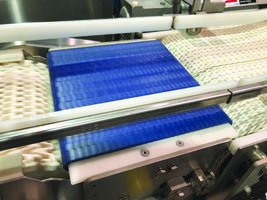 Micropitch transfers are basically a "powered deadplate", designed to allow for seamless end-to-end transfers of small profile, top-heavy, or uniquely shaped products that may stall, wedge, wobble or tip on a standard fixed transfer deadplate or roller transition.
When two conveyors need an end-to-end transfer, LBP (low back pressure) transitions are typical. However, some products can stall using this method, ultimately waiting for the next product to nudge it over the transfer area. It was for this very purpose that the micropitch transfer was created.
The device is basically a miniature conveyor with a very tight nose bar put in place to interface two separate belting types or technologies. Micropitch transfers are also specified as end units on retractable noser conveyors.
One example in the corresponding micropitch transfer YouTube video by Multi-Conveyor shows how transfers were placed after an incline friction chain, prior to a dual lane product turner, and then again at post-turner where product transfers onto standard table top chain. Another application needed a micropitch transfer after a vibrating settling conveyor, that merges to tabletop chain, diverts, then micropitch transfers onto sideflexing grip chain for an incline ahead.
The most effective way of incorporating this technology is by preplanning the use of the micropitch in the original conveyor design. An afterthought approach is far more costly, and may require line extensions or add-ons. This transfer technology may be difficult to retrofit to original designs if incompatible belt widths were used or transfer space is insufficient.
Learn more about micropitch transfers on our website by visiting https://www.multi-conveyor.com.
About Multi-Conveyor
Multi-Conveyor is a leading manufacturer of standard and custom conveyor solutions for End-Users, Integrators, Engineering firms, Automation/Robotics, AI, OEM's and contracts.
Packagers across multiple markets. Our products are multiple and unique. No single conveyor product defines Multi-Conveyor. We specialize in conveyor systems for packaging or material handling for nearly every industry, product, shape and size. Our customers report they select Multi-Conveyor for concept/design, engineering skills, quality product, best value and prompt delivery.
Multi-Conveyor excels in sanitary, easy to maintain, clean-in-place or "no tools required" belt changeover systems for nearly any industry. We direct manufacture stainless steel and mild steel construction conveyors for table top chains, modular plastic belts, fabric belting and now custom MDR. Our in-house electrical and engineering departments execute the controls, panels, devices, PLCs, VFDs, HMIs, safety, inspection and sensors needed to integrate our systems with multiple packaging platforms. Quick ship plastic chain and low-profile, small transfer, pre-engineered sanitary and non-sanitary belt systems are available for quick delivery.
All of these construction designs, technologies and solutions, along with nearly 100 conveyor videos, can be found on our comprehensive website: https://www.multi-conveyor.com.
YouTube link to the equipment in this PR: https://youtu.be/SIFnRCAk3Yg
Contact Info For Publication:
Multi-Conveyor LLC
P O Box 10
Winneconne, WI 54986
+1-800-236-7960
info@multi-conv.com
www.multi-conveyor.com
PR Contact Non-Publication:
cmiller@multi-conv.com
More from Material Handling & Storage