TGA4943-SL - New Driver PA is 1st Surface Mount Device for 40Gb/s Opto Market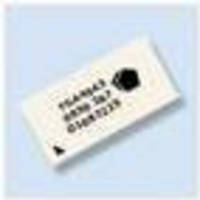 TriQuint's new TGA4943-SL is the first surface-mount technology (SMT) modulator driver amplifier for optical networks. In addition to offering surface mount convenience and easy assembly, the TGA4943-SL consumes about 50% the power of other solutions - only 2.1 Watts. The TGA4943-SL provides metro and long haul designers system-critical features such as: low power dissipation, low rail ripple, high voltage drive capability (3 Vpp amplitude adjustable up to 9 Vpp), low output jitter, and low input drive sensitivity (0.4 Vpp - 1 Vpp at Vout = 8Vpp).

The TGA4943-SL driver PA is ideally suited for the performance requirements of leading modulation standards for high-speed / high-bandwidth networking: 40Gb/s: DQPSK (2x); 100 Gb/s: DP-QPSK (4x). For more information, contact Product Marketing.

Related