TFT OGS Display features PCAP adapter.
Press Release Summary: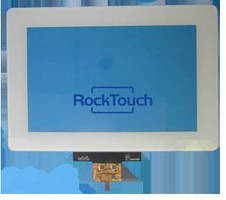 With 95.04 x 53.856 active area and 16.7M color depth, 4.3 in. UMSH-8864MD-6T measures 105.5 x 67.2 x 5.52 mm and features 24-bit RGB parallel interface. Display has sensor on cover glass layer (lens) and COG driving IC package. Latter utilizes Himax chip and PAP117 PCAP controller. While LED lifetime is rated at 50,000 hr, typical contrast is 500, brightness is 450 nits cd/m², and response time is 5 msec. At 12.1 in. wide PCAP connects chip to motherboard using RockTouch cable.
---
Original Press Release:

4.3" OGS (One Glass Solution) PCAP and 12.1W RockTouch



Microtips Technology is excited to announce our new 4.3" TFT, OGS PCAP display and our 12.1"W PCAP.   This 4.3" OGS display reduces the thickness of a regular display with PCAP, which has the dimensional size of 105.5 x 67.2 x 5.52 mm, a 24-bit RGB Parallel interface.   The OGS display refers to as having a sensor on the lens, which is call the cover glass layer.  Our new OGS display has a COG driving IC package, which utilizes the Himax chip and PCAP controller PAP117.  The Active Area is 95.04 x 53.856, with a color depth of 16.7M.   This display has a life time (LED) of 50,000 hrs, which is very appealing when dealing with a PCAP display.  Our contrast ratio is phenomenon when it comes on to optical characteristics; this has a typical contrast at 500, with a brightness of 450 nits cd/m2, with a response time of 5ms.   The 4.3" TFT has a big improvement on the grey scale inversion which account for its superb look.



Our 12.1" PCAP is our mission is to develop secure and easy integration for our clients; we have developed a simple-smart adapter for our clients to connect the chip on flat to a standard industrial motherboard using a RockTouch cable.  The Rocktouch cable comes in USB and serial connector interface.  The cable is in two lengths, short length 40cm and long length which is 1.83 meters long.  The cable has a ferrite core attached to guarantee the quality of use by decreasing noise.  We also manufacture cover lenses.  Providing clients with more flexibility to integrate our touch panel to their designs, RockTouch comes in many sizes from 10.1 to 21.5" W and thickness of 3mm or 6mm (cover lenses).  We also have offered our clients the option to choose between black and white for each cover lens.



Link: http://www.microtipsusa.com



Quick Features:

Part# UMSH-8864MD-6T

DOT Matrix 4.3 inches

Overall Area 105.5 x 67.2 x 5.52 mm

Active Area 95.04 x 53.856  mm

Interface Parallel 24-bit RGB

Color Depth 16.7M

LCD Mode TN/Normal white

Temperature ST: -30~80°C, OT: -20~70°C

More from Electrical Equipment & Systems