TFT LCDs feature thin 3 mm profile.
Press Release Summary: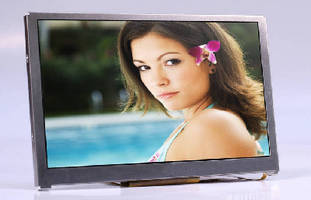 Available in both standard and touchscreen formats, InfoVue TFT LCDs feature extended temperature range of -20 to 70°C and LED backlight that allows 500:1 contrast. Resistive type touchscreens operate in 4-bit parallel interface. Offered in 3.5, 4.3, 5.7, and 7.0 in. diagonal screen sizes, RoHS-compliant units are suited for industrial controls, medical devices, test and measurement, and communications equipment.
---
Original Press Release:

New Infovue Touchscreen TFT LCDs from Lumex



FEATURE EXTENDED TEMPERATURE RANGE, THIN PROFILE AND LED BACKLIGHT

New TFT LCD comes with industry-leading, complimentary product integration support

PALATINE, IL - Lumex announces the global launch of their InfoVue TFT (Thin Film Transistor) family of full color graphic display technology. InfoVue TFT LCDs come in both touch screen and standard formats and feature an extended temperature range, LED backlighting for high contrast, and a thin profile starting at an industry-leading 3mm. InfoVue TFT technology comes with complimentary integration support from Lumex´s team of Technical Design Specialists.

Compatible with standard LCD drivers, InfoVue TFT technology is ideal for a wide range of applications including:

o industrial control device technology (including user interface technology for automation controls, alternative energy, industrial power and calibration/diagnostics);

o medical device technology (including display features on medical radiology equipment, monitors, defibrillators, infusion pumps, blood gases analyzers and ventilators);

o test and measurement (including cable testers, calibration instruments and digital multi-meters)

o communications equipment (including network routing, enterprise phone systems, servers)

InfoVue TFT LCDs provide an extended temperature range. Whereas standard TFT LCDs operate from 0°C to 60°C, the InfoVue TFT LCD can operate effectively at temperatures ranging from -20°C to 70°C, making the technology an ideal fit for applications that require consistent performance in extended hot and cold environments.

InfoVue TFT LCDs use LED backlights which further increase the contrast. This method allows for much richer colors and darker blacks than available with alternative technologies such as CCFLs (compact fluorescent lamps). Whereas CCFL can offer a contrast of 150:1, an LED backlight allows for a contrast of 500:1.

"Lumex is launching its InfoVue TFT technology with complimentary product integration support that is unparalleled in the industry," explained Brian Coates, Technical Sales Manager at Lumex. "Lumex Technical Design Specialists can integrate the TFT technology with touch screens, switches, connectors, cables covers, heaters, custom daughter boards and other key components to create solutions that maximize performance and efficiency in each individual application."

This complimentary integration support generates cost savings, speeds time to market and reduces opportunity for product failure due to integration issues

The RoHs compliant InfoVue TFT LCDs are available in standard and touch-screen formats in 3.5", 4.3", 5.7" and 7.0" diagonal screen sizes. The resistive type touch-screens operate in a 4 bit parallel interface and operate well over the entire operating temperature range of the display.

Pricing is approximately $30 to $150 per unit in production quantities dependent on size and quantity ordered. Touch screen TFTs are available in stock from Lumex's strategic distribution partners immediately. Standard lead time for non-touch screen technologies is approximately seventeen weeks.

Lumex Contact Information

For additional information or engineering assistance:

In North America and Europe, contact Lumex's Sales Department, 290 E. Helen Rd., Palatine, IL 60067 USA. Phone: 1-800-278-5666. FAX: 1-847-359-8904. E-mail: lmxsales@lumex.com Web: www.lumex.com.

In Asia, contact Lumex's Asian Pacific Headquarters at 3F, No. 972, Sec. 4, Chung Hsing Rd., Chu Dung, Hsin Chu County, Taiwan, ROC. Phone: +886-3-582-1124. FAX: +886-3-582-1154. Web (in Chinese): www.lumex.com.tw

About Lumex

For 30 years, Lumex, a member of the ITW Photonics Group, has been a global leader in the optoelectronics industry. With the broadest range of high efficiency, high performance LEDs and LCDs in the industry, Lumex provides thousands of standard products and specializes in semi-custom and custom designs. Lumex's optical range encompasses a wide spectrum including UV, visible and infrared wavelengths. Lumex's team of Technical Design Specialists are experts in collaboratively developing effective, smart solutions from the most complex design dilemmas.

Lumex has a global footprint with the worldwide headquarters outside Chicago and the Asian headquarters in Taiwan. With manufacturing capabilities in the United States, China, Taiwan and Thailand, Lumex is able to support over 23 end markets with more than 80,000 customers both directly and through our distribution channel partners. Lumex received its initial ISO 9001 registration in 1996.

About the ITW Photonics Group

The ITW Photonics Group was created to bring together and build on the technical expertise of individual companies that specialize in photonics technology and span the full spectrum of wavelengths. The group consists of:

o Lumex - LED and LCD technology

o Cal Sensors - IR Detector and Emitter technology

o Opto Diode Corp - LED, Silicon Photodiodes and Electro-Optical Assembly technology

The synergy of these three industry front-runners provides an unsurpassed range of photonic capabilities within a broad spectrum of markets, including medical, military and industrial controls. The ITW Photonics Group provides integrated solutions that encompass the technology and experience from all three business units, offering design engineers higher performance with greater feature enhancements. For more information on the ITW Photonics Group, go to www.itwphotonicsgroup.com

More from Laboratory and Research Supplies and Equipment