TFT LCD Modules have anti-reflective surface treatment.
Press Release Summary: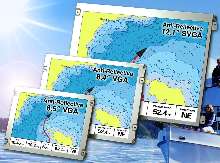 Industrial TFT color LCD modules feature anti-reflective surface treatment on front polarizer that improves high-ambient-light legibility and image clarity. Treatment makes 6.5 in. VGA, 8.4 in. VGA, and 12.1 in. SVGA TFT LCDs suited for applications with varying ambient light conditions, including outdoor environments, while exhibiting no glare or decrease in luminance or contrast. Surface reflectivity, after treatment, is reduced to ~0.3%.
---
Original Press Release:

New Family of Optrex Industrial TFT LCDs Feature Anti-Reflective Surface Treatment for High Ambient Light Readability


Plymouth, MI, May 2004 - Optrex America, Inc., is offering a family of industrial TFT color LCD modules that feature an Anti-Reflective (AR) surface treatment on the front polarizer that dramatically improves high-ambient-light legibility and image clarity.

Available on Optrex's 6.5" VGA, 8.4" VGA and 12.1" SVGA TFT LCDs, the company's new Anti-Reflective surface treatment enables these rugged, high-performance modules to provide the ideal solution for a wide range of applications with varying ambient light conditions, including high brightness and outdoor environments.

"Optrex is continually enhancing the performance of our industrial TFT modules for the industrial market," said Dale H. Maunu, Director of Business Development and Procurement at Optrex America. "These are high-brightness, high-contrast displays, and the new AR surface treatment enables them to provide oustanding performance in very high-ambient-light environments with excellent legibility, no glare, no decrease in luminance or contrast, and no increase in backlight power consumption."

The new Anti-Reflective coating reduces the surface reflectivity of the LCD panel to approximately 0.3%, compared to the 6 to 12% reflectance offered by a normal anti-glare surface. It enables Optrex's TFT LCD modules to provide dramatically increased high-ambient-light legibility without the need for a high-power-consumption backlight, and with no increase in heat dissipation.

"The increased legibility provided by the Anti-Reflective surface treatment brings added value to users with applications in high-ambient-light environments," noted John Cramer, Marketing and Business Development Manager for Optrex America. These applications include marine/GPS, outdoor kiosk and point-of-purchase displays, gas pumps, and industrial equipment.

The Optrex TFT modules available with AR surface treatment feature high luminance, wide viewing angles, rugged construction, high contrast and outstanding front-of-screen performance. These modules include the 6.5" VGA TFT color LCD (P/N T-51750GD065J-FW-AB), which has a resolution of 640 x 480 dot pixels, 400 nits luminance, a 300:1 contrast ratio, economical chip-on-glass (COG) construction, an ultra-slim symmetrical outline and reverse scan capability, which allows users to invert the scan direction to obtain the best image (depending on whether the display will be viewed from above or below).

Also available with AR surface treatment is Optrex's 8.4" VGA TFT color LCD. This module (P/N T-51638D084J-FW-A-AC) has a luminance of 480 nits and a 500:1 contrast ratio, with reverse scan capability. And for applications requiring larger size and even higher resolution, Optrex is offering its 12.1" SVGA (super VGA) module with 800 x 600 dot pixel resolution, 350 nits luminance, a very high contrast ratio of 500:1, and reverse scan capability (P/N T-51512D121J-FW-A-AC).

Pricing for Optrex VGA/SVGA TFT LCD modules with built-in AR surface treatment is $242 (6.5" VGA, P/N T-51750GD065J-FW-AB), $345 (8.4" VGA, P/N T-51638D084J-FW-A-AC) and $441 (12.1" SVGA, P/N T-51512D121J-FW-A-AC) in OEM quantities. For additional details on pricing and delivery, contact Optrex America, Inc.

For more information, contact John Cramer at Optrex America, Inc., 46723 Five Mile Road, Plymouth, MI 48170. Tel: 734-416-8500; Fax: 734-416-8520; E-mail: jcramer@optrexusa.com; Web: www.optrex.com.

Optrex is a world leader in the design and manufacture of OEM liquid crystal displays (LCDs) for an expanding line of products that includes displays for telecommunications and non-PC Internet devices; test, measurement and diagnostic instruments; handheld data management equipment; and automotive and avionics displays. Founded in 1976, Optrex has followed an aggressive policy of growth and expansion and now serves customers through an extensive in-field network of applications engineers and more than 100 sales and distribution offices throughout the world. The Optrex technology palette includes Active-MLA (multi-line addressing), TFT (thin film transistor), VHC (very high contrast), STN (super twisted nematic), HPC (high performance color) for car audio applications, TFCC (trim fine crystal color) for color mobile products, and OLED (organic light emitting diode).

More from Controls & Controllers