TFT LCD enables display of colors in bright sunlight.
Press Release Summary: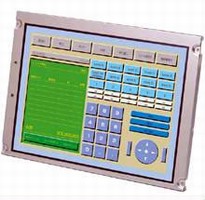 Featuring super-transmissive, natural light TFT technology, 12.1 in. SVGA Model NL8060BC31-32 provides 400 cd/m² luminance, 600:1 contrast, and low levels of reflectivity on screen surface, enabling information and pictures to be reproduced in high ambient light conditions. With temperature range of -10 to +70°C, amorphous silicon display operates in extreme applications including outdoor vending machines, ticketing machines, and kiosk terminals.
---
Original Press Release:
NEC LCD Technologies' New 12.1-Inch LCD
Enables Display of Vivid Colors Even in Bright Sunlight TOKYO, Aug. 5 -- NEC LCD Technologies, Ltd. today announced that on August 8 it will begin shipping samples of its new 12.1-inch (31-centimeters-diagonal) super video graphics array (SVGA), amorphous silicon, thin film transistor liquid crystal display (TFT LCD) module, part number NL8060BC31-32. This module features NEC LCD Technologies' proprietary super-transmissive natural light TFT (ST-NLT) technology, which enables display of vivid colors in environments with high ambient light. The three key features that distinguish this model are as follows: (1) High Visibility High luminance of 400 cd/m(2), high contrast of 600:1 and low levels of reflectivity on the screen surface enable a variety of information and pictures to be reproduced in clear and vivid color, even in high ambient light conditions. (2) Wide Operating-Temperature Range A wide operating temperature range, from -10 to +70 degrees Celsius, guarantees operation in even the most extreme conditions. (3) Compatibility As with most LCD modules in NEC's standard industrial lineup, backward compatibility with its predecessors with respect to outer dimensions, position of mounting holes, and center of the screen enables the new module to be replaced easily -- without the need for changing any peripheral appliances due to interface incompatibility. NEC LCD Technologies developed the 12.1-inch LCD module in response to the increasing demand for new ST-NLT-based LCDs in a variety of sizes and resolutions, a demand that arose as a result of the success of the company's 5.5-inch LCD module (part number NL3224BC35-22), the first LCD to be equipped with ST-NLT technology. "Following the excellent reception of the 5.5-inch ST-NLT-equipped LCD module, we have decided to launch a 12.1-inch model in response to increasing market demand for ST-NLT technology in a variety of LCD devices," said Hidetoshi Usui, department manager in charge of product planning and marketing, NEC LCD Technologies, Ltd. "This product will enable display devices to be designed into automatic vending machines, automatic ticketing machines and kiosk terminals placed in outdoor locations." NEC LCD Technologies will continue to enhance its line-up of LCDs adopting ST-NLT technology for a variety of industrial applications and a range of environmental conditions. About NEC LCD Technologies, Ltd. NEC LCD Technologies, Ltd. is one of the world's leading providers of high-quality, innovative, active-matrix liquid crystal display (AM-LCDs) modules for the industrial and high-end monitor markets. The company focuses its development on three core technology areas: ultra-wide viewing angle SFT technology with high luminance and fast response; transflective NLT technology; and adaptive design technology that meet a variety of specialized needs for the flat panel display markets. NEC LCD Technologies' worldwide support includes sales and marketing affiliates NEC Electronics America, Inc. (www.necelam.com) and NEC Electronics Europe (www.eu.necel.com) that offer specialized display solutions to their respective markets. NEC LCD Technologies employs approximately 1,200 people worldwide and offers one of the broadest product portfolios for the medical, factory automation, test and measurement, entertainment, kiosk, and POS markets. Additional information can be found at nec-lcd.com/english/index.html . CONTACT: Diane Foley of NEC LCD Technologies, +81-3-3798-6511, or d-foley@ax.jp.nec.com
More from Cleaning Products & Equipment