TFT Display eliminates light reflections and refractions.
Press Release Summary: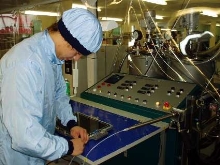 Suitable for indoor and outdoor use, Optically-Enhanced TFT Display is scalable from 6-46 in. and can be applied to standard LCD panels or GDS Mitra panels. Material with cross-polymer bonding capability is used to fill air gap between glass and LCD. There is no condensation or stress on display, and parallax is minimized. Applications include flight and rail information displays, public information kiosks, retail exhibitions, trade shows, and conference rooms.
---
Original Press Release:

Global Display Solutions Unveils Its Optically-Enhanced TFT Display


Global Display Solutions Ltd. (GDS), market leader in the design and manufacture of industrial, digital displays, unveils its revolutionary Optically-Enhanced TFT Display. The display is designed for use in flight and rail information displays, public information kiosks, retail exhibitions, trade shows and conference rooms. This innovative TFT display, which forms part of GDS's new Industrial Range, has increased brightness and contrast, making the screen a lot easier to read in comparison with alternative TFT displays on the market.

GDS's new Optically-Enhanced TFT Display uses a GDS patented process to ensure that internal light reflections and refractions are completely eliminated, maximizing the visibility of the display. This patented solution, which uses a unique material with a cross-polymer bonding capability to fill the air gap between the glass and LCD, enables a display to be optically-enhanced. GDS's new Optically-Enhanced TFT Display also has the following advantages:
o Scalable (from 6" to 46") and removable
o Can be applied to either standard LCD panels or GDS Mitra panels (1500 candelas approx)
o Removable touchscreen option
o No condensation on the display
o Parallax reduced - Parallax refers to the apparent shifting of an image on a display when viewed at different angles, thereby altering the perspective
o No stress on the LCD which can result in birefringence (white spots) that impede the LCD
o LCD cover glass remains secured in place even when cracked
o Suitable for both indoor and outdoor use (display maintains its high performance even when directly exposed to UV rays for long periods)
o Negligible risk of LCD contamination due to the assembly of the display in a specially-designed clean room facility in Italy.

GDS's new Optically-Enhanced TFT Display also has the added benefits of being low cost and free from optical degradation. This solution is ideal where a vandal or protective glass is already a requirement.

GDS is a world-leading manufacturer of industrial display solutions for a number of industries worldwide including retail, leisure, transport, kiosk, banking, marine and process. For further information on GDS's Optically-Enhanced TFT Display, please call +44 (0) 1274 230150, visit www.gds.com or email sales@gds.com

More from Cleaning Products & Equipment