TFT Computer Monitors are HDTV-ready.
Press Release Summary: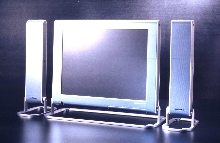 SyncMaster(TM) 211MP (21 in.) and 241MP (24 in.) flat-panel monitors are 4-in-1 devices that function as slim flat-panel computer monitors, full-featured TVs with tuner, and video monitors with inputs. Both monitors feature Patterned Vertical Alignment (PVA), Xtrawide(TM) 170° viewing angle, contrast ratio of 500:1, and response times of <25 milliseconds. 211MP offers 1600 x 1200 resolution, and 241MP allows for 1920 x 1200 resolution.
---
Original Press Release:

Samsung Introduces The World's First 21" And 24" HDTV-Ready TFT Computer Monitors With TV Tuners


Ground-Breaking 4-In-1 Flat-Panels Are HDTV-Ready Computer Monitors, TVs and Video Displays with Picture-in-Picture Viewing

Las Vegas, NV -- Samsung, the world's leading manufacturer of LCD and CRT monitors, continues to push the technology envelope with the introduction of the radically new SyncMaster(TM) 211 MP and 241 MP flat-panel monitors. The 21" and 24" MPs are by far the most versatile TFTs on the market today. Each display is a 4-in-1 HDTV-ready device that functions as a slim flat-panel computer monitor, a full-featured TV with tuner, and a video monitor with inputs for a DVD player, VCR, camcorder or any video device. The SyncMaster 211 MP and SyncMaster 241 MP will be shipping in February.

"Samsung is building on the tremendous success of the recently introduced 15" and 17" MP convergence displays to offer the same advanced technology in larger screen sizes. These new all-in-one displays meet the demands of the professional market, businesses searching for an all-in-one presentations device, and high-tech aficionados who are looking for the ultimate visual experience," notes Rey Roque, Vice President of Marketing, for Samsung's Digital Information Technology Division, (DITD). "The extension of the MP display line showcases Samsung's ability to provide high-end, multimedia displays for consumers of all needs."

The new SyncMaster 211 MP and SyncMaster 241 MP are perfect for video and audio professionals looking to produce digital content material for computer video games, film and HDTV production. The MP allows users to create combinations of real video and animation and combine these elements using computer based tools. A true multimedia display, the MP is also designed for general non-linear video editing. It offers analog RGB and CVBS video input, component video, S-Video, HDTV capability and includes a modular TV tuner with an antenna connection for cable TV and satellite viewing. The TV tuner allows for a high-contrast, fully geared stand-alone TV that supports NTSC TV and
video signals.

The new MP is also excellent for businesses seeking a slim presentations device and is perfect for a corporate boardroom, office or bank where multiple tasks must be performed simultaneously. For example, a business can show a potential client its corporate video and also give a PowerPoint presentation on the same space-saving unit. A company can also use the new MP to show its training video to employees and then
have them answer personnel questions on the display using a PC. Samsung's SyncMaster 211MP and SyncMaster 241MP feature Patterned Vertical Alignment (PVA), a Samsung patented technology, which incorporates the latest advancements in liquid cell structure that improve the monitor's four major viewing criteria, including viewing angle, brightness, contrast and response time. Both displays feature an Xtrawide(TM) 170° viewing angle, ultra-high contrast ratio of 500:1 and an exceptionally quick response time of less than 25 milliseconds, making the new MP perfect for motion video. The 211MP offers a maximum resolution of 1600 x 1200 and the SyncMaster 241MP allows for a maximum resolution of 1920 x 1200.

Samsung's versatile MPs offer a number of exciting options that give viewers complete control over the on-screen image. The advanced scaling feature allows viewers to magnify any portion of the on-screen image up to 17X. A one-touch auto adjustment
offers fast and accurate viewing that works on any pattern. Both units feature a remote controller, soft touch control buttons, Plug and Play set up, 3D surround sound external speakers and removable stand that allows for wall and ceiling mounting.

For energy efficient reduced power consumption, Samsung's MPs feature a four-stage (On, Stand-by, Suspend, Off) power management system that complies with the VESA DPMS, NUTEK and Environmental Protection Agency's Energy Star standards. Both
displays also meet the stringent MPR-11 and TCO-95 low emissions standards.

The SyncMaster 211MP and 241MP are backed by Samsung's three-year parts, labor and backlight warranty as well as live, toll-free technical support 24 hours a day, 365 days a year.

More from Printing & Duplicating Equipment