TFT 7.0 in. Touch Panel features 18-bit LVDS interface.
Press Release Summary: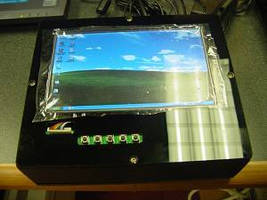 Featuring 7.0 in. DOT matrix and overall area of 164.7 x 106.25 x 10.65 mm, UMSH-8425MD offers active area of 152.4 x 91.44 mm. There are 21 LEDs (9.9 V typ) used for backlighting and 8 capacitive touch panel pins. With respective operating and storage ranges of -20 to +70 C and -30 to +80 C, display offers 450:1 contrast ratio and 450 candelas/m² luminance. Viewing direction and grayscale inversion are defined by rubbing direction of TFT surface treatment.
---
Original Press Release:

7.0 inch LVDS Touch Panel



Microtips Technology is excited to announce our 7.0 inch LVDS Touch Panel, transmissive Normal White with an operating temperature of -20 ~ 70 degrees Celsius and a storage temperature of -30 ~ 80 degrees Celsius.   as an active area of 152.4x91.44 mm which is pretty great for a 7.0 inches display, The viewing direction is define by the rubbing direction of its TFT surface treatment, furthermore the grayscale inversion is at this direction as well.  However the optimal viewing directions for human view is normally where the color does not change to grayscale inversion and this would be the opposite site of the specified viewing direction in the specification above. There are 8 capacitive touch panel pins: with a System reset signal input pin which only has to be active low for this feature to work.



The lifetime on this display, or other-words the half-life Time of these led chips brightness decreases to 50% than original brightness, base on Ta 25+- 2 degrees Celsius and 60+-10% RH condition.  This LCD display has 21 Leds, with a 9.9v typical.   The contrast ratio of 7.0 inch LVDS touch panel is 450:1 with a luminance of 450 candelas per square meter.  We have also start developing Flexible and transparency OLEDs display and will be feature in our next news letter stay tune for more and exciting small displays.



Link: http://www.microtipsusa.com



Part#  UMSH-8425MD

DOT Matrix 7.0 inches

Overall Area 164.7x106.25x10.65

Active Area 152.4x91.44 mm

Interface LVDS – 18-bit

Backlight Type LED

Brightness 450

Contrast Ratio 450

Temp ST: -30~80°C, OP: -20~70°C

More from Machinery & Machining Tools