DC to DC Power Supplies (Converters)
TFR Railway Series DC-DC Converters withstand up to 200 V input transients.
Press Release Summary: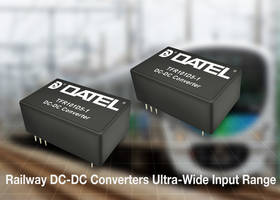 Suitable for transportation, industrial, distributed power architecture, telecommunications, military and mobile applications, TFR Railway Series DC-DC Converters are operated in -40ºC to +85ºC temperature range with 43 - 160 V input voltage. Units are housed in 24-pin DIP package and offer fixed switching frequency. Meeting CE 2014/30/EC, EN 45545-2 and EN 50155 standards, converters comes with OTP, OCP, OVP, UVLO and auto-restart protection.
---
Original Press Release:
TFR Railway Series of Up-to 10 Watt 24-pin DIP Railway DC-DC Converters with 43 to 160 Volts Ultra-Wide Input Range
DATEL TFR series of railway converters offers up to 10 watts of output power in an industry standard 24-pin DIP package. This series features ultra-wide input voltage range of 43 to 160Vdc with single or dual outputs, as well as high efficiencies up to 88% and 3000 Volts of DC isolation.
DATEL Inc. has announced the introduction of a new 24-pin railway series that can deliver up to 10 watts of power. This new line of high power-density DC-DC converters from DATEL is the preferred choice for transportation, industrial, distributed power architecture, telecommunications, military and mobile applications, but are mostly suited for Railway applications, including: Driver Computer System, Communications System, Emergency Start, Media / Alarms / Horn / Cameras, Windshield Washer Wipers, Remote Control / Operation, Passenger Comfort Systems, Ticketing / Counting / Tracking Systems, Doors / Lifts (Including Facilities for Disabled).
Samples are readily available from stock; please contact DATEL especially if your application requires customized input/output voltages, alternate pin-outs, or alternate packaging. Other 24-pin packages models are available from DATEL ranging in power from 3 up to 15 watts.
Ultra-wide input range (43 - 160 Volts)
Regulated outputs
Fixed switching frequency
-40ºC to +85ºC operation
No minimum load requirement
Full protection (OTP, OCP, OVP, UVLO and auto-restart)
Meets EN 50155 with external circuits
Withstands up to 200 Volt input transients
Designed to meet CE 2014/30/EC
Fire and smoke meets EN 45545-2
Shock and vibration meets EN 50155 (EN 61373)
Safety designed to meet UL 60950-1
10 Watt TFR Series Datasheet (PDF): http://www.datel.com/data/ps/tfr10watt-1.pdf
View TFR Series Product Information: http://catalog.datel.com/viewitems/ters-railway-wide-input-dc-dc-converters-1/rters-24-pin-dip-tfr-railway-series-up-to-10-watts
About DATEL, Inc.
DATEL is an employee owned US-based company dedicated to the military and aerospace market solutions. For several decades DATEL has worked closely with defense and Hi-Rel companies to provide fully qualified and MIL-Certified 883 components that meet customers' specific and stringent application requirements.
As a premier designer / manufacturer of Data Acquisition systems and components, DATEL is frequently approached by our customers to help them resolve obsolescence, End-of-Life (EOL) and / or reduced access to qualified legacy products. We are uniquely positioned to provide alternative solutions to on-going and mature defense and aerospace programs which suffer from Diminishing Supplier Base issues.
DATEL is an established supplier of such Data Acquisition devices, including industry's best hybrid A/D and D/A Converters, Sample-Hold Amplifiers, CCD Signal Processors / Imaging Converters, Single-Package, Multi-channel Data Acquisition Systems, Sample-Hold Amplifiers and many other custom MCM assemblies. We maintain MIL-PRF-38534, Class H and Class E Certification to offer our customers many features and capabilities, including: MIL-STD-883 Screening, Customized Testing, Screening, and Packaging. We offer New Design, Reverse Engineering and Resurrection of Obsolete systems / components, providing full Form-Fit-and Function Compatibility with legacy devices.
Our Manufacturing and Design Capability positions DATEL as a reliable partner to resolve legacy, obsolescence, and diminishing supplier base problems which our customers encounter with more and more frequency.
DATEL maintains core processes, products and capabilities with NO OBSOLESCENCE, thus supporting products and programs for our customers for the past half-century.
Media Contact:
Russell Mitnik
DATEL Business Development Manager
Tel: 508-964-5373 (office)
508-496-0358 (mobile)
E-mail: RussellMitnik@datel.com
Contact This Company Download Spec Sheet
Related