Textured Decorative Finishes use Cast & Cure™ technology.
Press Release Summary: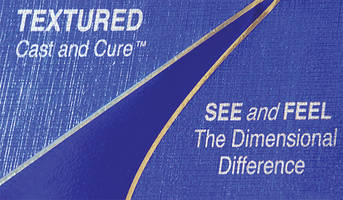 Available in 30 films patterns for matte, ultra-high gloss, textured and holographic finishes, Textured Decorative Finishes provide enhanced look and feel to brand packaging. Consisting of linen and brushed strokes, units are impressed onto varnished surfaces.
---
Original Press Release:
New Textured Packaging that Consumers Can See and Feel
Breit Technologies introduces textured decorative finishes that visually enhance the look and feel of brand packaging.
The new textured finishes from Breit Technologies provide a unique look and feel to brand packaging using the company's innovative Cast & Cure™ (C2) technology and proprietary casting films. The new textured pattern presently includes linen and brushed stroke and can be applied as high resolution spot as well as flood finishes. A wide variety of Cast & Cure decorative finishes can be applied to film, paper and other substrates using the co. mpany's unique patterned films. Film patterns are impressed onto varnished surfaces and cured with LED, UV or EB sources. The films can be reused multiple times, providing excellent cost economies on volume runs. Over 30 films patterns are presently available for matte, ultra-high gloss, textured and holographic finishes. C2 can be applied using existing cold foil stations or with Breit Technologies' custom machine lines available for narrow web, wide web and sheet-fed applications.
For the Editor:
Breit Technologies is the world leader of the Cast and Cure™ technology, a decorative coating process for package printers that forms unique, high quality surface finishes such as ultra high gloss, matte, texture and holographic patterns. These effects are ideal for creating visual impact and product differentiation on retail shelves and are often incorporated as an anti-counterfeiting feature. Today Breit Technologies is a global supplier of Cast and Cure solutions to customers in over 50 countries, providing both the specialized high-speed equipment as well as a vast inventory of films with an extensive array of finishing patterns. Equipment is available for sheet fed applications, narrow to wide web applications, and can be integrated with existing processes in-line, off-line or in by-pass mode. The process uses eco-friendly, VOC-free inks and varnishes, is less expensive than hot and cold foil stamping, and can use UV, LED or EB curing.
Contact:
Tim Cain
President
Breit Technologies
Phone: (913) 492-8081
Url: www.breit-tech.com
More from Laboratory and Research Supplies and Equipment