Tests Conducted by Major Pipeline Company to Detect Biodiesel in Diesel Fuels with New Wilks Biodiesel Analyzer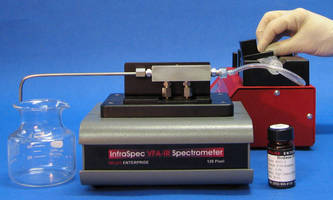 East Norwalk, CT - Seven weeks of on-site tests were recently completed at a major pipeline company in the Southwest to determine the effectiveness of the new InfraSpec VFA-IR Spectrometer, Model EB, for detecting biodiesel contamination in diesel fuels about to enter the pipeline. Over 20 different diesel fuels were tested for the presence of biodiesel and if they would cause false positive readings. The testing concluded that the Wilks InfraSpec Spectrometer was well suited to detect biodiesel levels as low as 100 ppm and provides an easy and quick check for fuel contamination at a price significantly lower than other analytical instruments.

The InfraSpec VFA-IR Spectrometer, Model EB, is able to check for fuel contamination in less than five minutes by an operator with minimal training. It eliminates the need to wait for measurement results from an off-site laboratory. The InfraSpec Spectrometer incorporates a flow-through sample system and integrated syringe pump with automatic software controls for all pumping actions.

Currently, the ASTM Method D 975 allows up to 5% biodiesel in diesel without the requirement for biodiesel content labeling. For some diesel fuel applications, the presence of even a little biodiesel is a major concern. Pipeline operators are concerned that a diesel shipment could unknowingly contain biodiesel and cause 'trail-back" where trace amounts of biodiesel clinging to the walls of the pipe can end up in future diesel fuel shipments. Emergency diesel generator operators, such as nuclear power plants, who store fuels for long periods, are also concerned that the presence of biodiesel could cause bacterial growth which clogs fuel filters and can shut down a generator just when it is needed most.

The InfraSpec Spectrometer is compact, portable and has a simplified PC interface that gives the user the capability to measure on-site at a pipeline, nuclear power plant, or at a manufacturing facility as well as in the laboratory - anywhere fast, easy biodiesel detection is required.

For further information on the InfraSpec VFA-IR Spectrometer for low-level biodiesel measurements, please contact:

Wilks Enterprise, Inc.,

25 Van Zant Street,

Ste. 8F, E. Norwalk, CT 06855

USA,

TEL: 203-855-9136,

FAX: 203-838-9868,

Email: srintoul@WilksIR.com,

Web Site - WilksIR.com,

or to download the information http://www.wilksir.com/pdf/LowBiodiesel.pdf.

About Wilks Enterprise, Inc.

Headquartered in E. Norwalk, Connecticut, Wilks Enterprise specializes in easy-to-use, portable mid-infrared analyzers for specific measurement applications. All Wilks analyzers have been specifically designed for on-site use by non-technical personnel and are used for a wide variety of applications in the biofuels, environmental, petrochemical, quality control, and manufacturing industries. These portable analyzers enable analytical measurements to be made in the field, helping to eliminate the wait for off-site lab results.

For further press information or images, please contact

Carol Tunick,

VP - Marketing,

at 203-855-9136

or email: ctunick@WilksIR.com.

More from Services