Testing Software integrates with PAWS ATLAS TPS.
Press Release Summary: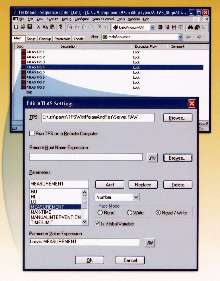 TestStand v3.0 helps engineers migrate test systems written in legacy test environments. PAWS ATLAS interface features ability to browse and select PAWS ATLAS TPS files, specify parameters, and perform remote control. Runtime features deliver full compliance of TPS Server state transitions, such as attaching, loading, and detaching; parameter reading and writing; global locking; handling of manual TPS intervention; and ability to pause and terminate sequence execution.
---
Original Press Release:
National Instruments TestStand 3.0 Now Integrates With Legacy PAWS ATLAS TPS

AUSTIN, Texas - Dec. 16, 2003 - National Instruments (Nasdaq: NATI) today announced new TYX PAWS ATLAS Test Program Set (TPS) integration in TestStand 3.0 to protect major investments in existing military and aerospace test systems around the world.

"The new TestStand integration with PAWS ATLAS TPS is very important for supporting legacy TPS installed around the world," said Mike Krayewsky program manager at Lockheed Martin Information Systems. "It is important to protect the large investments in existing test systems while refreshing systems to take advantage of the latest test software technology such as NI TestStand 3.0 and LabWindows/CVI 7.0. Lockheed Martin Information Systems is evaluating the new TestStand PAWS ATLAS TPS step types for possible use in their future test projects."

The TestStand 3.0 PAWS ATLAS interface features the ability to browse and select PAWS ATLAS TPS files, specify parameters and perform remote control. Runtime features of the new TestStand PAWS ATLAS step type deliver full compliance of TPS Server state transitions, such as attaching, loading and detaching; parameter reading and writing; global locking; handling of manual TPS intervention; and the ability to pause and terminate sequence execution.

NI TestStand helps engineers migrate test systems written in legacy test environments. Before TestStand 3.0, engineers spent significant development time to migrate their legacy systems making it difficult to integrate new tools and test methods. With the open language interface provided by the TestStand module adapters, engineers can quickly integrate new or legacy code to save significant development time and avoid unnecessary risk associated with major changes to existing test code. In addition to PAWS ATLAS, engineers can use TestStand module adapters to call tests written in popular programming languages such as NI LabVIEW, LabWindows/CVI, Visual Basic 6.0, Visual Basic .NET, C#, Visual C++, HTBasic, HP-VEE, Perl, TCL, JAVA and Delphi.

About National Instruments

National Instruments (www.ni.com) is a technology pioneer and leader in virtual instrumentation - a revolutionary concept that has changed the way engineers and scientists approach measurement and automation. Leveraging the PC and its related technologies, virtual instrumentation increases productivity and lowers costs for customers worldwide through easy-to-integrate software, such as the NI LabVIEW graphical development environment, and modular hardware, such as PXI modules for data acquisition, instrument control and machine vision. Headquartered in Austin, Texas, Nl has more than 3,000 employees and direct operations in 40 countries. In 2002, the company sold products to more than 25,000 different companies in more than 80 countries around the world. For the past four consecutive years, FORTUNE magazine has named NI one of the 100 best companies to work for in America. Readers may obtain investment information from the company's investor relations department at (512) 683-5090, by sending e-mail to nati@ni.com or on the Web at http://www.ni.com/nati.

Pricing and Contact Information

NI TestStand 3.0 priced from $2,995

For more information on TestStand 3.0, visit http://www.ni.com/teststand

For more information on the PAWS ATLAS TPS integration in TestStand 3.0, contact Richard McDonell at (512) 683-5880

11500 N Mopac Expwy, Austin, Texas 78759-3504

Tel: (800) 258-7022, Fax: (512) 683-9300

Email: info@ni.com

www.ni.com
More from Electronic Components & Devices