Tester suits tube inspection in nuclear steam generators.
Press Release Summary: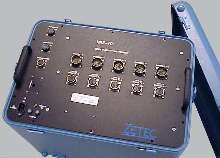 Model MIZ®-70 Eddy Current Instrument supports up to 32 frequencies during data acquisition and offers sample rates up to 16,000 samples/sec. Comprised of CPU, frequency synthesizer, and analog processor, it performs all necessary testing functions, including frequency generation from 10 Hz to 10 MHz. Its 10/100BaseT network interface provides data communication between the MIZ-70 and HP workstation, while software provides simultaneous control of up to 4 probes.
---
Original Press Release:

Zetec Introduces a New Tester Specifically Designed for Tube Inspection in Nuclear Steam Generators - The MIZ®-70


ISSAQUAH, WASHINGTON - Zetec, Inc., a leading supplier of nondestructive evaluation (NDE) equipment introduces the MIZ®-70 Eddy Current Instrument using the most recent technology in multiplexed, multi-frequency drives. The MIZ-70 supports the selection of a maximum of 32 frequencies during data acquisition and offers high sample rates - up to 16,000 samples per second - to help increase testing rates and reduce inspection times. Advanced features support high speed MRPC probes and allow faster MRPC probe pull rates while simultaneously using up to four probes. Comprised of a central processing unit (CPU), a frequency synthesizer, and an analog processor, the MIZ-70 performs all needed testing functions including wide-range frequency generation from 10 Hz to 10 MHz. The extended probe drive of 1 to 20 Vpp coupled with the low noise performance of the instrument results in the best flaw detection and signal-to-noise performance in the industry. Both electronic balancing and saturation detection circuits extend the dynamic range of the instrument and provide the operator with saturation information.

A 10/100BaseT network interface provides data communication between the MIZ-70 and an HP workstation. Acquisition software, developed for the MIZ-70, provides the operator with control of up to four probes simultaneously. Using the workstation setup, the operator can configure both tester and probe.
Troubleshooting aids, which can help determine the source of a problem, are included in the built-in web server diagnostics - check task status, stack, and memory. MIZ-30 probe adapters are compatible with the MIZ-70. Custom probe adapters are also available.

Zetec's High-Speed MRPC Inspection System integrates the MIZ-70 Eddy Current Tester, SM-25 Remote Fixture with the Quad High-Speed MRPC Controller, Machine Vision, and Eddynet® ZAC. During field trials, system performance doubled inspection rates and confirmed that Auto Data Acquisition vastly improves the efficiency of eddy current inspections.

About Zetec

Zetec, Inc. has grown to be the world's leading supplier of eddy current equipment, supplies, software products and related customer and inspection services. Our unique portfolio provides seamless solutions for all aspects of eddy current technology - from automatic probe manipulation, to probe design and manufacture, instrumentation, software, data analysis, data management and training. Zetec is located near Seattle in Washington State, USA, with sales through a worldwide network of manufacturer's representatives. Zetec provides support for every aspect of eddy current testing used in mission critical applications in industries such as aerospace, nuclear and fossil energy, component manufacturing and petrochemical plants.

More information on Zetec and its products can be found on the World Wide Web at www.zetec.com or through Press Relations at Zetec, Inc., 1370 NW Mall Street, Issaquah WA, USA, 98027 - Phone: 425 392 5316 or Fax: 425 392 2086.


More from Mechanical Power Transmission