Tester measures intrinsic viscosity of PET polymers.
Press Release Summary: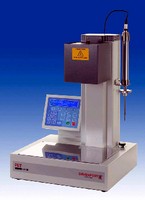 Eliminating environmental hazard of handling and disposal of toxic solvents, Davenport(TM) PETPlus determines IV of moisture-sensitive PET polymers as well as degradation factor, and provides mean and standard deviation for each batch. Instrument is supplied with integral nitrogen regulation valve for pressure adjustment when testing different materials. Able to store up to 600 test results, microprocessor-controlled stand-alone system offers temperature control to +0.1°C.
---
Original Press Release:

Lloyd Instruments Launches Unique PET Intrinsic Viscosity Test Instrument



LARGO, FL-- Lloyd Instruments, a unit of AMETEK Measurement & Calibration Technologies, has launched the Davenport(TM) PETPlus Intrinsic Viscosity Measurement Instrument. This new compact stand-alone instrument offers significant benefits for determining the intrinsic viscosity (IV) of moisture-sensitive PET polymers, avoiding both the costs and the environmental hazard of handling and disposal of toxic solvents. The PETPlus also measures the degradation factor and provides the mean and standard deviation for each batch.

The PETPlus is supplied with a convenient integral nitrogen regulation valve for easy pressure adjustment when testing different materials. Requiring only power and a pressurized nitrogen supply, the instrument can be operated in stand-alone mode or used in conjunction with NEXYGENPlus PET, AMETEK's powerful new dedicated data analysis software package for the IV measurement of PET polymers. A user-friendly training mode is included as standard to simplify operator instruction.

Polymers can be tested by the PETPlus at virtually all stages of the production process to provide greater overall control. Tests can be completed in as little as 20 minutes on incoming resin, powder, dry granules, molten polymer, pre-forms, bottles, films and even re-ground material to eliminate scrap. Rapid testing at the different stages can be carried out using ancillary equipment for controlled sample collection and preparation. The instrument's compact construction occupies significantly less bench space than earlier models and makes it easier and quicker to load samples.

The microprocessor controlled stand-alone system provides high accuracy measurements, temperature control to + 0.1°C and storage of up to 600 test results. A backlit LCD displays instructions for the test in a variety of languages as well as the results. An RS-232 interface allows connection to a computer for downloading of results or for fully automated software control using NEXYGENPlus PET.

The PETPlus Intrinsic Viscosity Measurement Instrument uses a well established unique solvent-free method for routine IV measurement of PET. Molten PET is extruded through a calibrated die by nitrogen gas under pressure, and the LVDT probe movement against time is recorded and displayed. The system measures the optimum flow rate and calculates intrinsic viscosity. The procedure used ensures that reliable, accurate and repeatable results are easily obtained and checked against standard polymers.

A comprehensive range of sample preparation equipment including vacuum pumps and polymer dryers are available to ensure correct sample drying conditions for the instrument. By using the Quick Test Polymer Chip Grinder, the material can be ground to a fine powder to ensure drying within just 50 minutes. A Polymer Chip Transfer Vessel is available to carry dried PET directly from the process dryer to the PETPlus for instant testing.

For more information, contact AMETEK Measurement & Calibration Technologies, 8600 Somerset Drive, Largo, FL 33223. Tel: 727-536-7831. Fax: 727-539-6882 or from the Lloyd Instruments web site, www.lloyd-instruments.com.

Lloyd Instruments is a unit of AMETEK Measurement & Calibration Technologies, a division of AMETEK, Inc., a leading global manufacturer of electronic instruments and electromechanical devices with 2007 sales of more than $2.1 billion.

CONTACT: Rich Brown (518) 689-0222

More from Fluid & Gas Flow Equipment