Test Tools combine insulation tester and multimeter.
Press Release Summary: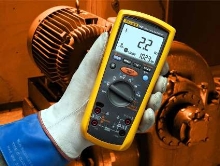 Insulation Multimeter Models 1587 and 1577 combine 1 kV digital insulation tester with full-featured true-rms digital multimeter in single, handheld device that fits in toolbox or on tool belt. Model 1587 provides insulation resistance testing up to 2 GW with 5 output voltages from 50-1,000 V, while Model 1577 tests up to 600 MW of resistance with 500 or 1,000 V. Insulation testing is disabled if meters are connected to live circuit with more than 30 V.
---
Original Press Release:

Fluke Engineers Combine Two Tools into One, Introduce the First True Insulation Multimeters


Combines insulation test and multimeter into one compact, affordable meter

EVERETT, Wash. - Fluke Corporation, the world's leading supplier of handheld test and measurement equipment, has combined the capabilities of two frequently used test tools into one compact new tool - the insulation multimeter. The Fluke 1587 and 1577 Insulation Multimeters combine a 1 kV digital insulation tester with a full-featured true-rms digital multimeter in a single, compact, handheld device that weighs one pound and easily fits in a toolbox or on a tool belt.

The need for insulation testing in the field is increasing, yet traditional testers are large, bulky and not easily carried. With the new insulation multimeter, Fluke has combined the most frequently used features of an insulation tester and a DMM in a lightweight tool that fits in your hand. Now electricians and technicians have a portable tool they can easily carry into the field that meets their basic multimeter needs and gives them an insulation tester that generates up to 1 kV. The insulation multimeters are ideal for troubleshooting and preventive maintenance on motors, cables and switchgear.

Insulation test features
Easy to use with a simple interface, the 1587 provides insulation resistance testing up to 2 GW, with five output voltages ranging from 50 V to 1000 V, while the 1577 tests up to 600 MW of resistance with either 500 or 1000 V. A new remote test probe enables one-handed insulation testing via a trigger on the probe handle. Insulation testing is disabled if the meters are connected to a live circuit with more than 30 volts. Following testing, the meters automatically discharge all capacitive voltage from the equipment under test to help prevent accidental shocks.

Multimeter features
The Fluke Insulation Multimeters offer full-featured DMM functionality, with:

1577/1587
o AC/DC voltage
o AC/DC milliamps
o DC millivolts
o Resistance
o Continuity

1587 only
o Capacitance
o Diode Test
o Frequency
o Low pass filter (for VFD readings)
o Min/Max
o Temperature

In addition, the advanced circuitry of the 1587 is capable of accurately measuring voltage and frequency on variable frequency motor drive systems through a low pass filter. Such systems are increasingly common in industry, but create electrical 'noise' that baffles ordinary DMMs. Both models feature large display digits and a bright white backlight to make work easier in low-light environments.

The Fluke Insulation Multimeters are built for safety with 600 V Cat IV and 1000 V Cat III ratings and are engineered to withstand voltage spikes of 8 kilovolts. The meters come complete with test leads and probes, alligator clips, a K-type thermocouple (1587 only), and the remote test probe, in a rugged, hard case. They are powered by four AA batteries, good for as many as 1000 insulation tests. The meters' impact absorbing yellow boot accepts the Fluke TPAK(tm) magnetic hanging system for hands-free operation. Both models carry a three year warranty. U.S. list price for the Fluke 1587 Insulation Multimeter is $549, while the Model 1577 lists at $449.

For more information on the Fluke 1587 and 1577 Insulation Multimeters, visit www.fluke.com, or contact Fluke Corporation, P.O. Box 9090, Everett, WA USA 98206, call (888) 308-5277, fax (425) 446-5116, or e-mail fluke-info@fluke.com.

Fluke Corporation
Fluke Corporation is the world leader in compact, professional electronic test tools. Fluke customers are technicians, engineers, electricians and metrologists who install, troubleshoot, and manage industrial electrical and electronic equipment and calibration processes for quality control.

Related