Gas and Chemical Sensors / Detectors
Test Systems measure water vapor and O2 transmission rates.
Press Release Summary: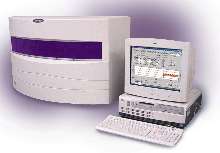 OX-TRAN® Model 702 and PERMATRAN-W® Model 700 feature COULOX® coulometric-type sensor for measuring oxygen and modulated infrared sensor for measuring water vapor. Seven-cell configuration allows 7 different structures to be tested independently. Pushbutton-actuated, pneumatic clamping device facilitates loading of material into cell and provides consistent pressure. Systems are suited for packaging applications where product is subjected to degradation by oxygen or moisture.
---
Original Press Release:

MOCON Unveils New Level of Precision, Ease of Use for Water Vapor, Oxygen Transmission Rate Measurement


Minneapolis, MN (January 6, 2004) -MOCON, Inc. (NASDAQ: MOCO) launches an even more precise and efficient way to measure water vapor (WVTR) and oxygen (OTR) transmission rates via its new PERMATRAN-W® Model 700 and OX-TRAN® Model 702 units.

The testing systems feature MOCON'S proprietary, high accuracy COULOX® coulometric-type sensor for oxygen and modulated infrared for water vapor which brings measurement precision to an industry high. In turn, this allows R&D labs to make more informed decisions in structure development and for quality control to accurately determine the quality of its production. Oftentimes, the end result is significant long-term material cost savings.

The PERMATRAN-W® Model 700 and OX-TRAN® Model 702 systems are used to measure MVTR and OTR on a variety of flexible and rigid packaging structures including flat films, laminates, co-extrusions and bottles.

This new generation offers a seven (removable) cell configuration so that seven different structures can be tested independently. Another new design feature, a pneumatic clamping device that is push button actuated, makes it easier to load the material into the cell and provide consistent pressure-an asset to accurate and repeatable results.

Additionally, the systems incorporate computerized flow control of all gases (water vapor, oxygen and nitrogen), unlike traditional manually adjusted units.

The PERMATRAN-W® Model 700 and OX-TRAN® Model 702 software
incorporates a handy QuickStart feature which allows an operator to begin testing with only four mouse clicks. Security features to protect critical test set-ups and control multiple user situations are standard.

These systems are ideal for packaging applications in a variety of food, beverage, and pharmaceutical sectors-as well as any other applications in which product is subjected to degradation by either oxygen or moisture.

MOCON is a leading provider of instrumentation and consulting and laboratory services to medical, pharmaceutical, food and other industries worldwide. See www.mocon.com for more information.

Related