Test System meets immunity testing requirements.
Press Release Summary: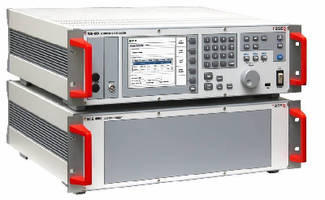 Combining signal generator and integrated power amplifier, Model NSG 4060 meets requirements for immunity testing to low frequency disturbances in frequency range of 15 Hz to 150 kHz. Disturbances are coupled onto cables in common mode (IEC/EN 61000-4-16) with continuous levels up to 33 V or differential mode (IEC/EN 61000-4-19) with levels up to 22 V/4.5 A. System includes user port for 4 TTL inputs and 4 TTL outputs as well as supply voltages for individual monitoring and control applications.
---
Original Press Release:

Test System from Teseq Meets New Immunity Testing Requirements



NSG 4060 tests frequencies ranging from 15 Hz to 150 kHz



Teseq announces a test system that meets the new requirements for immunity testing to low frequency disturbances in the frequency range of 15 Hz to 150 kHz. The NSG 4060 complies with current testing standards including EN 61326-3-1, IEC 61850-3, IEC 60255-22-7, IEC 60533/IEC 60945, IEC 61000-4-16 and IEC 61000-4-19.



Ideal for use by manufacturers of smart electrical meters, industrial circuit breakers, industrial Ethernet and shipboard equipment, the NSG 4060 is a robust system with a host of features and a best in class user interface with an intuitive front panel that enables the unit to run fully compliant tests without a PC. It accurately tests low frequency immunity in common and differential mode.



The new test system features a full range of verification accessories and ensures compatibility of components at a competitive price.  These accessories allow in-house confidence checking of differential CDN (CDND). 



Disturbances are coupled onto cables in common mode (IEC/EN 61000-4-16) with continuous levels up to 33 V or differential mode (IEC/EN 61000-4-19) with levels  up to 22 V / 4.5 A. The NSG 4060 features an extension unit that expands the test range frequency to DC and the amplitude to 300 V for short term tests.



This new unit, which combines a signal generator and integrated power amplifier, features a user port for four TTL inputs and four TTL outputs as well as supply voltages for individual monitoring and control applications.  There are also ports for generator output, system and coupling network control as well as phase synchronization input.



A remote control option is available through an optical RS232, RS232, LAN or USB.  Two USB, analog, digital and optical EUT monitoring inputs and external modulation input come standard on each unit.



The NSG 4060 shares the same chassis and user interface as the popular NSG 4070 RF conducted immunity system, featuring the same user-friendly 5.7in colour display, superb graphics to enable quick and user-friendly set-up of test procedures, as well as hard keys for important functions.



A user manual with extensive set-up diagrams and instructions is included with each unit.



Technical Specifications

• Immunity testing to low frequency disturbances in the frequency range of 15Hz to 150kHz

• In compliance with current testing standards including EN 61326-3-1, IEC 61850-3, IEC 60255-22-7, IEC 60533/IEC 60945 and IEC 61000-4-19

• Continuous levels up to 33 V and for IEC 61000-4-19 testing up to 22 V or 4.5 A

• Optional NSG 4060 extension unit for IEC 61000-4-16 short term tests with DC and amplitudes up to 330 V



For any further information please call AMETEK CTS Germany GmbH, +49 2307 / 26070-0, email info.cts@ametek.com or visit Teseq's website at www.teseq.com and http://www.ametek-cts.com.



Read our news:  http://feeds.feedburner.com/Teseq

Follow us: https://twitter.com/TeseqInc

Become a fan: https://www.facebook.com/Teseq

Watch the latest videos: http://www.youtube.com/user/Teseq



About Teseq

Teseq, a subsidiary of AMETEK Compliance Test Solutions, is a leading global developer of EMC instrumentation and systems for radiated and conducted interference in the automotive, consumer and industrial electronics, telecommunications, medical, defense and avionics industries. With four product brands—Teseq, IFI, MILMEGA and EM Test—it offers the world's most comprehensive range of EMC systems for immunity and emissions testing. Its strong global service network with nine local accredited calibration labs ensures fast turn-around for calibration and repair. Production facilities are located on the Isle of Wight, UK, in Luterbach, Switzerland, Berlin, Germany and Ronkonkoma, USA. Sales and service offices are in Switzerland, Germany, UK, France, USA, Japan, China, Singapore and Taiwan. Accredited test laboratories are in Switzerland, Germany, UK, USA, Singapore, China and Japan.



For further information contact:



United Kingdom

Teseq Ltd   

Ashville Way, Molly Millar's Lane, Wokingham, RG41 2PL 

Tel.: +44 (0)845 074 0660 

Email: uksales@teseq.com

Other countries in Europe



AMETEK CTS Germany GmbH

Lünener Strasse 211

59174 Kamen

Tel.: +49 (0)2307 / 26070-0

Email: info.cts@ametek.de

More from Fluid & Gas Flow Equipment