Test Strip Cutter reduces waste and tooling expense.
Press Release Summary: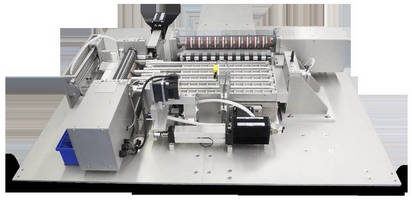 Using rotary shear cut blades driven by digital motors, touchscreen-operated AZCO test strip cutter allows original format of diagnostic test sheets to be cut into individual strips. First station cuts diagnostic sheet into 10 individual cards, and second station cuts cards into 50, 6 mm strips. After diagnostic sheet/card is fed into unit, it automatically cuts to size and feeds strips onto out-feed tray. Optic eye registration sensor allows for ±.006 in. accuracy at rate of 1,000 strips/min.
---
Original Press Release:

Test Strip Cutter Cuts Sheets or Cards into Individual Strips



Fairfield, NJ – AZCO Corp.'s test strip cutter allows original format of diagnostic test sheets to be cut into individual strips.  Just feed the diagnostic sheet or card into the unit and it will automatically cut to size, reducing waste and tooling cost.



Simple to use, the AZCO test strip cutter operates at a high-cycle rate.  This system consists of two cutting stations that have rotary shear cut blades driven by digital motors.  The first station cuts the diagnostic sheet into 10 individual cards.  The second station cuts the cards into 50 strips, each 6 mm in size.  The cut strips are then fed onto an out-feed tray.  The shear cut blades provide clean cuts and long life.  An optic eye registration sensor allows for +/- .006" accuracy at a rate of 1000 strips per minute.



A color touch screen makes it easy for the operator to use. On each screen there is a help button which acts as a user manual for the operator. Every function can be controlled through the touch screen.   In addition, remote support is available, anywhere in the world.  Just plug the USB port cable into the unit and we can take over the machine's settings.  Future software upgrades or other changes can be done remotely.  Also, a webcam is supplied for even more technical support.  You are only a phone call away from our service.



AZCO Corp. is an ISO 9001:2008 certified company with 30 years of experience developing solutions for a wide range of feeding and cutting applications.  They offer cutting edge, field proven systems and components that are easily adapted to meet the needs of the most complex applications.  AZCO Corp. will provide the most efficient and cost effective solution for you.



For more information, contact:



Andrew Zucaro, President

AZCO Corp.

26 Just Road

Fairfield, NJ 07004

Phone:  973-439-1428

Fax:  973-439-9411

cs@azcocorp.com

azcocorp.com