Test Kit performs interoperability testing of HSE devices.
Press Release Summary: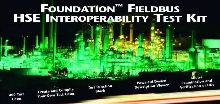 High-Speed Ethernet (HSE) Interoperability Test Kit v1.0 includes all hardware and software required to ensure complete HSE device interoperability as specified by Fieldbus Foundation's official registration testing procedure. HSE ITK consists of test engine that executes over 400 test cases to exercise device implementation, test function block, and device description (DD) viewer that allows examination and verification of device's DD.
---
Original Press Release:
Fieldbus Foundation Announces Release of High Speed Ethernet Interoperability Test Kit

New tool designed for interoperability testing of function blocks in HSE devices

AUSTIN, Texas, February 2, 2005 : The Fieldbus Foundation today announced the inaugural release of the High Speed Ethernet (HSE) Interoperability Test Kit (HSE ITK) Version 1.0. The new HSE ITK delivers test cases that expand the scope of interoperability testing benefiting end users of FOUNDATION fieldbus devices.

According to a study (Ethernet at the Device Level,­ A Worldwide Outlook) released by ARC Advisory Services, Interestingly enough, and as a reversal of the prior Fieldbus landscape, the process industries will likely end up with a single Ethernet standard FOUNDATION fieldbus HSE and its associated H1 non-Ethernet device level network. The discrete or machine control side of the automation business, on the other hand, has several competing protocols.

The HSE ITK supplements the previously released conformance test tool for HSE linking devices. The HSE ITK toolset opens the door for registration of FOUNDATION fieldbus HSE device designs with function blocks. An excellent tool for troubleshooting and debugging HSE devices, the HSE ITK test kit includes all hardware and software required to ensure complete HSE device interoperability as specified by the foundation¹s official registration testing procedure.

The HSE ITK was designed to verify a unique aspect of FOUNDATION fieldbus that makes device interoperability possible: standard Function Blocks. This testing tool represents the most rigorous and unique device interoperability test system available in the control industry. The HSE ITK consists of a test engine and a test function block. The HSE ITK test engine executes over 400 test cases that exercise the device implementation.

The test kit also includes a powerful Device Description (DD) viewer that allows examination and verification of a device's DD. Upgrades to the HSE ITK will occur as new standard Function Blocks become available.

The HSE ITK is the newest addition to the tool suite offered by the Fieldbus Foundation. Other HSE testing tools include the HSE Analyzer Tool Kit (HAT) and the HSE Conformance Test kit (HCTK), both excellent tools that aid in developing and testing HSE field devices and linking devices. The ITK Automation Tool Kit is an optional tool available to automate interoperability testing and reduce manual intervention.

According to the Fieldbus Foundation¹s software specialist, Denise Garvey, the release of HSE ITK 1.0 demonstrates the foundation¹s ongoing commitment to simplify the design and interoperability of high-speed, multi-vendor fieldbus systems. "We have listened to end users and responded with additional testing solutions that add certainty to the interoperability of registered FOUNDATION fieldbus devices," said Garvey. "The HSE ITK testing tool enables developers and users to have the highest level of confidence that best-in-class fieldbus devices can be chosen for specific control applications. FOUNDATION fieldbus products are fully interoperable and deliver all of the benefits of the technology."

Users of FOUNDATION fieldbus are now specifying HSE devices and their assurance of interoperability to complete their plant-wide integration. End users and developers from around the world give FOUNDATION fieldbus device designs high marks for complete specifications and rigorous registration testing. All devices tested and registered by the Fieldbus Foundation receive the official FOUNDATION fieldbus 'check mark' insignia.

The HSE Interoperability Test Kit (AT-422) is available for purchase in addition to the Interoperability Test Kit Bundle (AT-448), the new, combined testing kit that includes both the H1 ITK and the HSE ITK (AT-420+AT422). For more information on pricing for these items, please visit: www.fieldbus.org/ProductsAndServices/FFProductCatalog/.

For more information about the HSE ITK 1.0 Test Kit, contact Member Services at (512) 794-8890, or e-mail info@fieldbus.org.

About the Fieldbus Foundation

The Fieldbus Foundation is a not-for-profit corporation consisting of more than 350 leading process and manufacturing automation companies worldwide whose major purpose is to provide an open and neutral environment for the development of an international, interoperable fieldbus. In this environment, end users, manufacturers, universities and research organizations are working together to develop the technology, provide development tools, support and training, coordinate field trials and demonstrations, and enable product interoperability. Visit their web site at www.fieldbus.org.

Rich Timoney

Fieldbus Foundation

Tel: +1 512.794.8890

rich.timoney@fieldbus.org
More from Thermal & Heating Equipment