Test Kit measures water and solid particulate contamination.
Press Release Summary: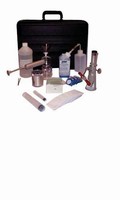 Compatible with hydraulic and lubrication oils, Patch Test Kit includes vacuum pump that draws fluid sample through membrane patch into mixing vessel with reagents. Exposure to reagents causes increase in pressure within vessel, which is measured and converted into water content and displayed on screen in ppm or percentage by volume. Residual dirt on patch is viewed under microscope and compared with photos of known contaminants included in Contamination Handbook.
---
Original Press Release:

Schroeder Industries Introduces Patch Test Kit



Kit Measures Water and Solid Particulate Contamination

Leetsdale, PA- Schroeder Industries, a recognized leader in filtration and fluid conditioning products, introduces its new Patch Test Kit, which offers the necessary tools to determine levels of both water and solid particulate contamination present in fluid samples.

Using a Schroeder vacuum pump, the fluid sample is drawn through a membrane patch. The residual dirt left behind on the patch is viewed under a microscope and compared to photos of known contamination levels in the included Schroeder Contamination Handbook for a visual assessment. The handbook also provides photos of various contaminants for use in identifying the type of particulate type and its possible source.

The included water sensing device included in this kit is an aluminum mixing vessel with a small built-in LCD display and microprocessor. When the two reagents supplied in the kit are mixed with the sample fluid in the cell, the resulting chemical reaction causes an increase in pressure within the vessel. This change in pressure is converted into water content and displayed on the screen in terms of parts per million (ppm) or percentage by volume.

The kit is compatible with both hydraulic and lube oils and determines both solid and water contamination levels. All necessary equipment is included in a single case, provides results are available onsite in a matter of minutes.

For more information on the Schroeder Patch Test Kit, visit schroederindustries.com/L-2712_EPK.pdf .

About Schroeder Industries

Schroeder Industries designs, manufactures and markets filtration products for the fluid power industry. Schroeder is a leader in filtration and fluid conditioning. Their expertise in filtration technology, superior filter and element manufacturing capabilities, and dedication to customer service and product support are the reasons Schroeder is considered "The Filter Company."

For further information about Schroeder Industries and its products, call 724-318-1100 or visit www.schroederindustries.com.

Related