Test Gas Blender can mix up to 48 compounds.
Press Release Summary: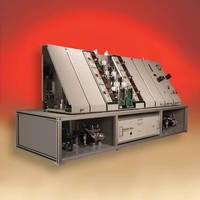 Capable of adding multiple trace concentration components to flowing gas stream, AutoBlend(TM) computer controlled system features 6 independently controlled permeation channels, each capable of containing up to 8 compounds for total of 48 compounds. Mixtures can be supplied dry or humidified and can be delivered at up to 20 psig pressure. Concentrations from hundreds of parts-per-million down to low parts-per-trillion can be added. Component concentrations can be varied independently.
---
Original Press Release:

AutoBlend(TM) Test Gas Blender



Applications

o Sensor Evaluation

o Analytical Methods Development & Validation

o Catalyst Testing

o Contaminant Effects Testing

o Odor Simulation

o Gas Filter Testing

o Other applications requiring complex test gas mixtures

KIN-TEK's AutoBlend(TM) is a computer-controlled, multi-channel gas blending system for supplying a continuous flow of adjustable composition test gas mixture. Applications include sensor evaluation, analytical methods development and validation, contaminant effects testing, catalyst testing, odor simulation, gas filter testing and other applications requiring complex test gas mixtures.

The system can add multiple trace concentration components to a flowing gas stream. Permeation tubes are used to add trace components to the gas mixture. Concentrations from hundreds of parts-per-million down to low parts-per-trillion can be added. Component concentrations can be varied independently, making the AutoBlend(TM) an ideal tool for conducting statistically designed test programs.

The AutoBlend(TM) features six independently controlled permeation channels. Each channel can contain up to 8 compounds for a total of 48 compounds. Additionally, there are two dynamic headspace channels that allow controlled addition of common environmental background vapors. Mixtures can be supplied dry or humidified and can be delivered at up to 20 psig pressure. The concentration of each component is traceable to NIST through physical standards.

Permeation tubes installed in each channel emit a small, precisely known flow of each component compound. Permeate from each tube mixes with a carrier gas flow to form a base mixture for each channel. The computer system controls the proportionate combination of flow from the various channels with a precisely controlled dilution flow to form the mixture. Mixture composition can be adjusted to suit application requirements.

For more information, contact:

KIN-TEK Laboratories, Inc.,

Phone: (409) 938-3627

www.kin-tek.com

email: sales@kin-tek.com

More from Sensors, Monitors & Transducers