Test Clips maintain maximum contact.
Press Release Summary: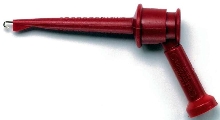 Designed to connect component test leads, terminals, and integrated circuit leads, Grabber® and Minigrabber® clips connect precisely and securely to facilitate testing. They are offered in variety of sizes, tips, and configurations. Available types include Minigrabbers No. 4723 and 4555, rotating Micrograbbers No. 5790, 5929, and 5930; and Micro SMD Grabbers No. 6490 and 6311 for connections in tight spaces, such as electronics.
---
Original Press Release:
Pomona Electronic Test Clips Maintain Maximum Contact

Grabber® and Minigrabber® clips connect precisely, quickly, and securely for easier testing.

EVERETT, Wash.,- Pomona Electronics, the leading manufacturer of cable assemblies, connectors, and test accessories, announces its line of grabbers and test clips designed to rapidly connect a wide variety of component test leads, terminals, and integrated circuit leads. The test connectors are available in a wide variety of sizes, tips, and configurations, including mini- and micrograbbers, minipincers, and rotating minigrabbers.

Pomona also offers a complete line of do-it-yourself clips, giving technicians the ability to configure and assemble their own test connections quickly and easily.

"Pomona's grabbers and test clips meet the wide variety of today's electronic needs, including making secure connections on tiny integrated circuit boards," said Pomona Marketing Manager Dwight Hyland. "Whether technicians want the convenience of pre-configured grabbers and clips or want to do it themselves, Pomona's comprehensive line has what they need."

Pomona Electronics test clips are available from most general electronics distributors in a wide variety of configurations from Minigrabbers (#4723, 4555) and rotating Micrograbbers (#5790, 5929, 5930), to the tiny Micro SMD Grabbers (#6490, 6311) for connections in tight spaces, like electronics.

Visit www.pomonaelectronics.com for more information or to request a catalog.

Pomona Electronics

Pomona Electronics has a broad line of accessories for applications ranging from test labs to field service, maintenance, manufacturing, and broadcast/audio digital signal transmission. The Pomona line includes banana plugs, coaxial cables, oscilloscope and DMM probe kits and accessories, IC test clips, boxes, connectors, test leads, and XLR and 75-ohm cable assembly products. For more than 50 years, the company's innovative design and high quality manufacturing have provided engineers and technicians with tools that keep pace with constantly changing technologies, and meet both UL and IEC1010 safety standards. Pomona products are available through the company's global distribution network.

To learn more about Pomona Electronics products, visit www.pomonaelectronics.com.
More from Computer Hardware & Peripherals