Terminal Test Tools facilitate diagnoses with TOM format.
Press Release Summary: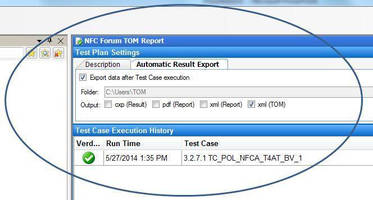 COMPRION terminal test tools allow automated processing of results in TOM (Testing, Organization and Management Database) format, which ensures all tests to be executed are based on latest standards. In addition to providing accurate overview of current project status of all connected labs, solution automatically transfers test results to TOM database to collect all necessary test reports and provide them for subsequent certification. Functionality minimizes postprocessing time and errors.
---
Original Press Release:

COMPRION adds CETECOM Test Report Format to Help Mobile Phone Vendors and Test Houses through the Complexity of the Testing Jungle



Testing cell phones and the GCF/PTRCB certification become increasingly complex and confusing due to new technologies and services such as mobile payment. What makes it worse: There are a variety of test platforms for the different GCF/PTCRB work items. Therefore, many handset vendors and test houses use the CETECOM solution 'TOM' to manage the growing number of tests and tools at various sites. Customers using COMPRION terminal test tools now have the opportunity to automate processing of their results in the convenient TOM format.



CETECOM's TOM (Testing, Organization and Management Database) ensures that all tests to be executed are based on the latest standards. Moreover, the system provides an accurate overview of the current project status of all labs connected. The test results are automatically transferred to the TOM database to collect all necessary test reports and to provide them for subsequent certification. The test operator minimizes the postprocessing time of test results and avoids errors through the transfer and reformatting of data. This saves costs and assures quality.



Many phone vendors and test houses trust the validated GCF/PTCRB test platforms from COMPRION. These companies can now easily export their test results in the TOM format. Until now, it was only possible to work with other formats such as CXP, PDF or the generic XML format.



Swantje Missfeldt, Product Manager at COMPRION states, "As CETECOM and COMPRION have many customers in common; we have intensified our cooperation to make processing of test results more convenient for them."



Dr. Peter Nevermann, Director Performance Services, Products & Solutions at CETECOM adds, "Nowadays, test automation is key for many customers. Providing a comprehensive test result reports that meets all requirements is a core step which needs to be automated as well. We appreciate that COMPRION now supports our TOM format thus speeding up product certification for our joint customer base."



About COMPRION

COMPRION is the worldwide leading manufacturer of test solutions for terminals and smart cards covering contact-based and contactless technologies. Our standardization activities enable us to integrate the latest standards into our products. As COMPRION systems are renowned for precise measurement capabilities, the company serves all top handset, card, chipset manufacturers, mobile network operators, and test houses. For further information, please contact info@comprion.com.



About CETECOM

CETECOM is renowned as an independent industry partner for telecommunication technologies. With over 400 employees worldwide, CETECOM offers a series of services which cover various technologies. Beside testing of familiar standards like GSM, WCDMA, LTE, CDMA, Bluetooth, Wi-Fi and NFC, CETECOM also performs a wide range of consulting and testing of mobile software applications, OTA Antenna testing, SAR, EMC, field trials, acoustics and batteries. In addition CETECOM supports new developments in the markets of "internet of things", especially for the domains of connected car and smart energy. CETECOM also participates in the development of global standards and test specifications. For further information, please visit www.cetecom.com or contact info@cetecom.com.



Press Contact:

Kathleen Loeser

Marketing Manager

Tel: +49 5251 6859 154

Fax: +49 5251 6859 999

E-Mail: Kloeser@comprion.com





More from Machinery & Machining Tools