Terminal Strips comply with revised DIN Glow Wire Standard.
Press Release Summary: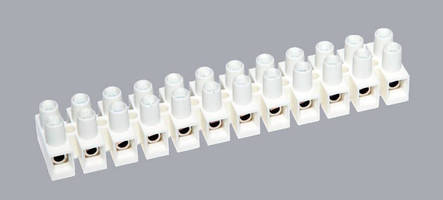 Constructed using polyamide material that provides flammability protection required to meet DIN 60335-1 standard, Europa screw-clamp connectors provide secure electrical connections mounted to flat surface. Products are available with 1–12 connections in 5 sizes: Type 4 (up to 20 A/600 V for 22–14 AWG); Type 6 (up to 20 A/600 V for 22–12 AWG); Type 10 (up to 40 A/600 V for 22–10 AWG); Type 16 (up to 65 A/600 V for 22–8 AWG); and Type 20 (up to 75 A/600 V for 22–4 AWG).
---
Original Press Release:

Wieland Electric Europa Terminal Strips Now Available with Enhanced Insulating Housing Compliant to Revised DIN 60335-1 Glow Wire Standard



Europa terminal strips provide economical, easily divisible connectors with wire protection for wire gauges from 22 – 4AWG



ONTARIO, CANADA – Wieland Electric Inc., a leading global manufacturer of innovative electrical interconnect technology, now offers its comprehensive range of Europa terminal strip connectors with an enhanced housing material that complies with revised glow wire testing standards.



The new version of the popular Europa terminal strip connectors is constructed using an improved polyamide material that provides the extended flammability protection required to meet the DIN 60335-1 standard for consumer appliances, which includes enhanced glow wire flammability test requirements.



"This latest enhancement of the Europa strip connectors gives design engineers the ability to specify them globally." said Martin Lalonde, application engineer at Wieland Electric.



The Europa terminal strips are screw-clamp connectors designed to provide economical, secure electrical connections mounted to a flat surface. They are available with 1 – 12 connections in five different sizes to accommodate a range of current ratings and wire gauges: Type 4 (up to 20A/600V for 22 – 14AWG); Type 6 (up to 20A/600V for 22 – 12AWG); Type 10 (up to 40A/600V for 22 – 10AWG) Type 16 (up to 65A/600V for 22 – 8AWG); and Type 20 (up to 75A/600V for 22 – 4AWG). Additionally, all of the connector types are available with an optional protective guard inside the clamping body to prevent damage to the connected wire, which is especially useful for designers using stranded wire. Marking accessories are also available for all sizes.



For more information about Wieland Electric's Europa terminal strips, please visit http://www.wielandinc.com/en-us/products/terminal-strips. For samples, custom design requests, and all other inquiries about Wieland Electric, please visit www.wielandinc.com or call 1-800-WIELAND (1-800-943-5263).



About Wieland

Wieland Electric Inc., founded in 1910, is a leading global manufacturer of electrical interconnect technology products. Headquartered in Germany with a North American Operations Center and subsidiaries throughout the world, Wieland Electric has 2200 employees in more than 70 countries to service worldwide customers. Wieland provides solutions to the industrial & building automation, wind, solar, HVAC, and power generation markets.  Local inventory, value-added services and technical resources at the North American Operations Center support a national sales and distribution channel. Wieland is ISO 9001 certified.



For more information, contact:

Martin Lalonde

Application Engineering & Technical Support

Wieland Electric Inc.

(905) 829-6414

martin.lalonde@wieland-electric.com



Chris Burke

BtB Marketing Communications

919-872-8122

chris.burke@btbmarketing.com

More from Construction Equipment and Supplies