Terminal Blocks target DCS marshalling applications.
Press Release Summary: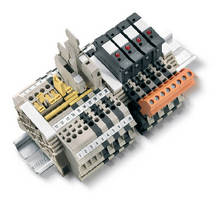 Featuring feed-through, fusing, and quick disconnect functions, WMF 2.5 Series offers uncomplicated connection that ensures clear arrangement of electrical circuits, providing solution for signal termination in process and power generation industries. Units incorporate integrated shield or ground connection, and 3 separate jumpering channels to accommodate parallel and series jumpering. Electrically rated for 600 V/25 A/26-12 AWG, series provides vibration-proof screw clamp termination.
---
Original Press Release:

New DCS Marshalling Terminal Series WMF 2.5 Terminal Series - for Process and Power Generation Industries



RICHMOND, VA - Weidmuller announces the introduction of an innovative new terminal block series, the WMF 2.5 (Weidmuller Multi Function). This new series is specifically designed for the challenging demands of DCS marshalling applications- notably to simplify wiring, reduce required cabinet space, increase functionality, and expand wire routing and signal distribution capabilities. Even with the existence of alternative technologies such as remote I/O and Field bus, terminal blocks still play a crucial role in DCS marshalling. The WMF 2.5 series offers an uncomplicated connection that ensures a clear arrangement of electrical circuits and provides one of the best possible solutions for signal termination in the process and power generation industries.

The WMF 2.5 terminal block series features several new functions in a single profile, and boasts a width of just 5 mm. These new functions include feed-through, fusing and quick disconnects. The WMF 2.5 terminals incorporate advances such as an integrated shield or ground (PE) connection, and three separate jumpering channels to accommodate parallel and series jumpering. In addition to the ability to terminate each individual signal with a screw connection, the new WMF 2.5 series offers the option to use a pre-assembled cable that features Weidmuller's pluggable BLZ connectors. The connectors can be plugged directly into the bank of terminal blocks, creating a "plug-and-play" option that reduces wiring time.

Weidmuller's new WMF 2.5 terminal block series includes clearly identified, black fuse terminals that are equipped with a robust pivoting fuse holder. This feature enables quick and easy fuse replacement as the holder rotates upward, avoiding any interference with adjacent terminals. Also designed in a slim 5mm width, the new fuse terminal provides significant space-savings over existing fuse terminals of comparable electrical function. An optional LED status indicator clearly shows if the fuse is OK or needs replacement. The LED circuit is designed to produce minimal leakage current (<0.5 mA) when the fuse is blown, eliminating the potential for false status indication to the PLC or DCS.

The WMF 2.5 terminals feature Weidmuller's standard setting, vibration-proof and maintenance-free screw clamp termination technology. They are electrically rated for 600V/25A/26-12AWG, and have UL and CSA approvals.

Weidmuller is the leading provider of solutions for the transmission of power, data and control signals in industrial environments. The company develops, produces and sells industrial electronics, network infrastructure components and connectivity solutions such as Wireless Solutions, Industrial Ethernet, Relays, Power Supplies, I/O modules, printed circuit board connectors, terminal blocks and complete DIN Rail assemblies. The Weidmuller group has a strong international focus with manufacturing and sales locations in over 70 countries.

More from Paints & Coatings