Terminal Blocks meet UL, CSA, and IEC standards.
Press Release Summary: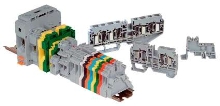 IEC Terminal Blocks are rated for Code 1, factory wiring only, and Code 2, both factory and field wiring. Feed-through units handle current ratings up to 232 A, while miniature panel-mounted units with spring clamp and screw clamp terminals are rated up to 35 A. Multi-level blocks are offered for 3-wire sensor installation and fuse holder units are available for IEC and North American control circuit fuses. Up to 8 colors can be used for identification.
---
Original Press Release:

Expanded IEC Terminal Block Line- Brand New from c3controls!


c3controls is proud to introduce our new and expanded line of IEC terminal blocks, giving you more of the features you've been asking for... wider variety, higher current ranges, more options. c3controls IEC terminal blocks have been designed, manufactured, and tested to meet the specifications and strict requirements of applicable UL, CSA, and IEC standards and are rated for Code 1, factory wiring only, and Code 2, both factory and field wiring.

c3controls full line of IEC Terminal Blocks are now offered in a wider variety. Our screw clamp connection terminal blocks are available in Feed Through, Ground, Multi-Conductor, Multi-Level, Fuse Holder, Disconnect, and Miniature Feed-Through Panel Mount. Our spring clamp connection terminal blocks include Feed-Through, Ground, Multi-Conductor, Miniature Feed Through Panel Mount, can lower your installation costs, and provide reliable connections for higher vibration applications.

Higher current ranges are now available in our terminal block product line. Feed-through terminal blocks are now capable of handling current ratings up to 232A, while our miniature panel mounted terminal blocks with spring clamp and screw clamp terminals are rated up to 35A for applications where the smallest size is necessary.

The terminal block product line by c3controls is now equipped with more options for your convenience. Multi-level terminal blocks are now offered for easy 3-wire sensor installation and fuse holder terminal blocks for IEC and North American control circuit fuses. Up to eight different colors can be used for easy circuit identification. Blank, standard, or custom markers are available from 5mm to 20mm wide, along with plotter systems and accessories to create your own markers.

From standard feed-through spring clamp or screw clamp to miniature panel mount, disconnect and fuse holder terminal blocks, c3controls provides the highest quality, best performing, easy to install IEC terminal block products available to meet your application needs.

About c3controls
Founded in 1976, c3controls is the single source, and USA based manufacturer of choice for high-quality, lower-cost industrial controls. Their broad product portfolio consists of 30mm and 22mm pilot devices, 16mm and 13mm indicator lights, as well as contactors, overload relays, motor protection circuit breakers, disconnect switches, cam switches, terminal blocks, general purpose relays and proximity sensors. c3controls offers a competitive advantage for their customers as a single source for top-quality components at the lowest prices, with the best service in the market. c3controls serves both the ordinary and hazardous location markets. Based in Beaver, PA, the company is proud of its family-owned heritage.

For more information about the company:
Contact:
Barb George
Marketing Manager
724-775-7926 E22
bgeorge@c3controls.com
Or Visit the Web at www.c3controls.com


More from Electronic Components & Devices