Terminal Blocks feature push-in connection technology.
Press Release Summary: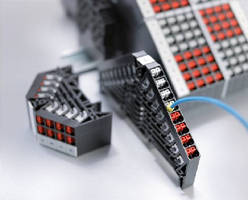 Intended for process industry, PRV Series consists of 4-, 8-, and 16-tier marshalling terminals, while PPV Series comprises 4- and 8-tier power distribution terminals. Providing 64 connections per terminal, 16-way PRV models can distribute more than 1,700 signals per 39 in. of DIN rail space. Both families, featuring 300 V/10 A rating, incorporate Push-In connection technology, which guarantees touch safety against inadvertent short circuiting and creates jolt-proof, gas-tight connection.
---
Original Press Release:

New High Density Marshalling and Distribution Terminals PRV/PPV 4/8/16 Terminal Series - for Process and Power Generation Industries



RICHMOND, VA  — Weidmuller announces the introduction of an innovative new terminal block series, PRV (Push-In Marshalling) and PPV (Push-In Power Distribution) 4/8/16 equipped with "PUSH IN" connection technology. Both product families support efficient wiring concepts for process industry environments and have been specifically developed for the challenging demands of DCS marshalling and distribution signals of PLC applications. PRV and PPV terminals facilitate simple wiring, reduced cabinet space requirements, expanded wire routing and signal distribution capabilities. Even with the existence of alternative technologies such as remote I/O and Field bus, terminal blocks still play a crucial role in DCS marshalling and PLC applications.



Weidmuller's PRV and PPV marshalling and power distribution terminals are particularly compact by design. The 16-way multi-tier PRV terminal block (64 connections per terminal) is presently a worldwide innovation. It can distribute more than 1,700 signals per 39 inches of DIN rail space. The color-coded (Red/White) clamp actuator buttons help to ensure optimum orientation when installing an extensive marshalling panel and carrying out future maintenance trouble shooting. Coding also assists in consistently generating error-free wire termination points.



The PRV family of terminals consists of 4-, 8- and the innovative 16-tier marshalling distribution terminals; the PPV family comprises the 4- and 8-tier power distribution terminals. Both families incorporate Weidmuller's patented "PUSH IN" connection technology which guarantees touch safety against inadvertent short circuiting. The "PUSH IN" double connection guarantees simple power distribution, and serves equally as a separate testing point. "PUSH IN" technology allows users to simply insert the prepared conductor into the terminal point to quickly create a reliable, jolt-proof, gas-tight connection. Moreover, this connection technology ensures vibration-proof and effective conductor retention forces. And in comparison with other connection technologies it achieves a higher wiring density combined with best-possible handling characteristics.



The PPV/PRV 4/8/16 terminals carry the following electrical ratings: 300V/10A/26-16AWG, and have UL and CSA approvals.

Weidmuller supports customers and partners around the world with products, solutions and services in the industrial environment of power, signal and data. The company develops innovative, sustainable and useful solutions that set standards in Industrial Connectivity today and continually work toward providing solutions for the technology challenges of tomorrow. The



Weidmuller Group owns manufacturing plants, sales companies and representatives in more than 80 countries. 



www.weidmuller.com

More from Agricultural & Farming Products