Terminal Blocks are color-coded.
Press Release Summary: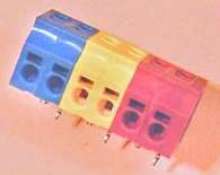 Series 622/645/675 terminal blocks provide flexibility to match wire color to terminal block color. Series 622 features dual-wire entry, Series 645 offers angled wire entry, and Series 675 provides for front wire entry. All products are screw-less style terminal blocks that lock wire in place. Pin configuration is for PCB mounting.
---
Original Press Release:

Unlimited Color Combinations* Possible with BLOCKMASTERS Palette Of Terminal Blocks


BlockMaster Electronics, Elk Grove Village, IL has announced the addition of several new series of color coded terminal blocks which will give circuit designers unsurpassed flexibility in matching wire color to terminal block color. The wide selection of wire entry offerings adds further to the breadth of possible design applications.

The newly offered series broadens BlockMaster's color-coded products even more when added to its already highly popular Jelly Bean color-coded modular terminal blocks. They are:

· Series 622 - Features dual wire entry.
· Series 645 - Offers an angled wire entry.
· Series 675 - A front wire entry product.

All of the new product additions are screw-less style terminal blocks that do not require the use of a screwdriver to lock wire in place. Pin configuration in all series is for PCB mounting.

All of BlockMasters' new Color Coded Terminal Block Series are in stock for sample quantities at their Elk Grove Village Headquarters warehouse. Pricing for all three new series is currently quoted at $.17 per pole in quantities of 500. For sample requests, pricing and delivery and for detailed specifications, contact BlockMaster at:

1400 Howard Street, Elk Grove Village, IL 60007
Toll Free Tel: 800-595-8881, Fax: 847-956-1690
E-Mail: BlockMaster@BlockMaster.com, Web: www.BlockMaster.com

BlockMaster, formed in 1994, is a manufacturer of broad line of high quality and economical terminal block connectors. Its products are sold globally through an extensive network of sales agents, and in the United States through authorized stocking distributors and independent representative organizations.

Company Contact:
Mike Dedoe, (847) 956-1680

* Figurative

More from Electronic Components & Devices