Tensioned Fabric Duct combines aesthetics and performance.
Press Release Summary: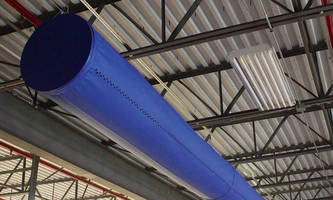 Suspended from tension cable or track suspension system, SkeleCore Pull-Tight™ provides solution for buildings requiring textile HVAC duct benefits/performance without sagging, wrinkling, movement, and sound associated with non-tensioned fabric duct. Design utilizes combination of Tensioning Baskets and Internal Hoops to support, streamline, and tension fabric system. Maximum tensioned section lengths are 40 ft, and internal hoops (spaced every 5 ft) eliminate mid-length drooping.
---
Original Press Release:

DuctSox's New SkeleCore Pull-Tight(TM) Adds Value-Engineered, Tensioned Fabric Duct to SkeleCore(TM) Line



Externally-tensioned Pull-Tight is 35 percent lighter, 25-percent more economical and 50-percent quicker to install vs. the forerunner SkeleCore FTS.



DuctSox®, Peosta, Iowa, a leading fabric HVAC air dispersion systems manufacturer, introduces SkeleCore Pull-Tight™ to its SkeleCore™ line of internal framework systems for fabric duct air dispersion. Pull-Tight is an aesthetic, economic solution for commercial, institutional and industrial buildings requiring the benefits and performance of textile HVAC duct, but without the sagging, wrinkling, movement and sound associated with conventional non-tensioned fabric duct.



Pull-Tight is a patent-pending, value-engineered product utilizing a combination of Tensioning Baskets and Internal Hoops to support, streamline and tension the fabric system. Pull-Tight is suspended from either a tension cable or track suspension system. The Tensioning Locks, which are attached to the Tensioning Baskets and suspension system,  tighten and lock the fabric externally into a taut, smooth appearance, versus the internally tensioned, premium-grade SkeleCore Fabric Tensioning System (FTS).



The powder-coated steel  Tensioning Baskets are positioned at multiple locations throughout the system, typically located at the opposite ends of fabric sections and at intermediate points for extended lengths. Maximum tensioned section lengths are 40 feet (12.19-meters). Tensioning baskets consist of two universal, 360-degree, multi-spoked rings spaced apart by a 29-inch-long (737-mm), 7/8-inch-diameter (22-mm) aluminum connecting tube.  Factory-installed internal hoops are spaced every five feet (1.524-meters) to eliminate mid-length drooping. Tensioning basket ring and hoop sizes match their respective fabric duct diameters, which range from eight to 60 inches (203 to 1,524-mm) in two-inch (51-mm) increments in the SkeleCore line. The tensioning baskets and locks are field-adjusted by installers to streamline a perpetually-inflated, wrinkle-free appearance even during idle air handling unit (AHU) periods. Pull-Tight also eliminates popping rollout sounds and other fabric movements during AHU start-ups.



FTS is the premium SkeleCore model and offers the optimum aesthetics and tensioning function. Pull-Tight provides similar benefits, but is a more economical alternative. Pull-Tight offers full fabric ductwork benefits, such as uniform air dispersion, versatile airflow designs, light weight, reduced installation time, and easily-laundered fabrics that don't condensate or corrode.  In the example of a 100-foot-long (30.48-meters) straight run of 24-inch-diameter (610-mm) DuctSox, a Pull-Tight cable system is approximately 35 percent lighter, 25-percent more economical and nearly 50-percent quicker (five man-hours) to install than its internally-tensioned FTS sister product.



Other Pull-Tight details are:



• Installation demonstration video is available at www.ductsox.com/media-library/videos.



• Warranties range from 10 to 15 years depending on inlet velocities and fabric model choices.



• Available with DuctSox's porous Sedona-Xm™ and Verona™ fabrics and non-porous TufTex™ and DuraTex™ fabrics;



• Air outlet options include linear vents, orifices, SG grommets, and fixed or adjustable nozzles.



• Available in black, silver, white, tan, green, blue, red and custom colors;



• Typical DuctSox fittings of elbows, tees, crosses and reducers are available, but are not tensioned like the FTS model;



• Fabric duct run lengths are unlimited, but each tensioned section is a maximum of 40 feet long (12.19-meters).



• Tensioning baskets, hoops and cable/track tension locks are easily disassembled without special tools within minutes for fabric commercial laundering.



For more information on SkeleCore Pull-Tight or other DuctSox textile air dispersion products and accessories, please visit www.ductsox.com or call 866-DUCTSOX.



About DuctSox: DuctSox Corp. (www.ductsox.com), is a Peosta, Iowa-based manufacturer of fabric ductwork/accessories that markets its products globally through HVAC/R  manufacturer's representatives. For more information visit www.ductsox.com, email sales@ductsox.com or call 866-DUCTSOX.



DuctSox Corp.

9866 Kapp Ct.

Peosta, Iowa, 52068

More from Materials