Tension Meter ensures correct timing belt tensioning.
Press Release Summary: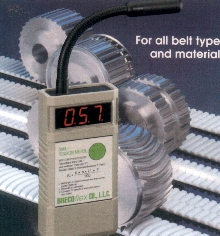 Model SM4 Universal Tension Meter measures frequency of all belt types, regardless of composition. It provides readings in range of 6-350 Hz ±5% and is suited for setting up belt drive systems. Meter helps eliminate belt under- and over-tensioning, reducing wear, vibration, noise, and friction.
---
Original Press Release:
SM4 Universal Tension Meter Accurate Timing Belt Tensioning
BRECOflex CO., L.L.C., the pioneer and world leader in the polyurethane timing belt industry, proudly introduces the new SM4 Universal Tension Meter. The SM4 Universal Tension Meter is designed to measure the frequency (Hz) of all belt types, regardless of the composition of the belts. The SM4 Universal Tension Meter provides a belt-frequency reading in the range of 6Hz to 350 Hz +/-5%. This measurement device proves to be the ideal tool to perfectly set up a belt drive system and also ensures consistent belt tensioning for production runs. Correct belt tensioning is mandatory in order to achieve maximum belt performance by eliminating belt under-tensioning or over-tensioning. The SM4 Universal Tension Meter ensures correct belt tensioning which results in: o Increased belt service life o Improved belt performance o Improved reliability o Improved positioning accuracy o Reduced belt wear o Reduced vibration o Reduced noise o Reduced friction o Appropriate shaft and bearing load SM4 Universal Tension Meters are stock items and are available from BRECOflex CO., L.L.C. for immediate delivery. To obtain a copy of the new SM4 Universal Tension Meter brochure, please call 1-888-463-1400 or download it from the BRECOflex website at www.brecoflex.com. BRECOflex CO., L.L.C. also offers a wide variety of steel or Kevlar® reinforced "state-of-the-art" timing belts for driving, positioning, conveying, power transmission, and linear drive applications as well as pulleys and other drive components. o Free engineering support BRECOflex CO., L.L.C. 222 Industrial Way West Eatontown, NJ 07724 Email: info@brecoflex.com Visit our website: www.brecoflex.com
More from Mechanical Power Transmission