Tension-Indicating Bolt works without torque wrench.
Press Release Summary: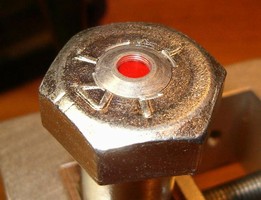 HR (high resolution) SmartBolt has built-in monitoring device that changes from yellow to green and vice-versa to provide at-a-glance visual indication of proper tightening or out of spec performance. Bolt clamp tension changes of 5% or less are discernable by color changing indicator, which has no moving parts and operates entirely by elastic flexure and fluid migration. Bolt is resistant to degradation from severe vibration levels.
---
Original Press Release:
Bolts are Bolts, or Are They?
For almost ever, torque wrenches were the only method of securing a critical bolt, but new kind of bolt has changed all that. In virtually every piece of manufacturing that required a critical and secure bolt the answer has always been to turn to the reliable old answer-the torque wrench. Once the product was in use, it meant routine checking, again with a torque wrench, to insure the bolts were tightened properly. The problem is, all this takes time. Checking individual bolts on a regular basis ties up maintenance personnel and translates into down time. And a torque wrench is not always the best method. All this need has led to a new kind of bolt that works without a torque wrench, the Smart Bolt, developed by Stress Indicators of Bethesda, Maryland. This bolt uses a built-in monitoring device that gives visual evidence when a bolt is tightened correctly and once installed, the bolt also gives a visual indication when it is out-of-spec. Dubbed the HR (high resolution) SmartBolt it can signal a change of 5% or less of bolt clamp tension visually by a color change in the indicator. The Need. The need to develop a new accurate tightening and monitoring is apparent to engineers. "A torque wrench is not always an accurate means of measuring preload, as you're having to overcome friction and other factors," says one senior mechanical engineer. "Additionally, our hardware is in locations that are difficult to access." The method in which the bolts are mounted allows access to the bolt head but not the nut. In order to apply even the inaccurate measure of clamp load with a torque wrench, the nut must be accessible as well. Hence, without a visual inspection method, one can only hope the bolt is maintaining its optimum preload. The HR SmartBolt brings contains a visual indicator on the bolt head that changes color when optimum preload is reached. Before tightening, the bolt is bright yellow, and when it reaches the specified preload, the indicator becomes green. Not only is the bolt at its correct tensile state when first applied, but also it can be constantly inspected thereafter and can be instantly replaced or re-tightened if it becomes loose. The SmartBolt is the brainchild of Chuck Popenoe, Technical Director with Stress Indicators, who began seeking a better way than torque wrenches to accurately gauge bolt preloads all the way back in the seventies. "There's always been an issue with using torque to try and measure the actual tension on the bolt," says Charles Popenoe, Chuck's son and president of the company. "The tension is what matters, it's what holds the joint together, but the torque is about the only way to measure tension without fancy gauges and instruments. But if you are measuring torque, you still have to overcome all the friction and then try and separate that out from the tension." "With the SmartBolt, the torque and the friction factors are taken out of the equation and it just measures the actual tension on the fastener," Popenoe continues. "You can visually verify that the proper preload has been reached." Hooke's Law The operation of the SmartBolt is based on the Hooke's Law elongation of the bolt as it is tightened. Tensioning the bolt causes the gage pin to retract linearly with the applied tension, away from a transparent window in the bolt's head. A flexible transparent envelope (microindicator) between the window and the brightly colored pin head contains a tiny drop of light-absorbing indicating fluid. As the bolt is tightened, the thickness of the fluid layer between the pin head and the window increases, effecting the color change. An unloaded HR SmartBolt displays a bright yellow indication, which will remain yellow until the bolt has been tightened to about 90% of the design tension. At that point it begins to become slightly green. At 100% design tension, the indication is a "grass green". Should the bolt be over tightened, the indicator color will darken to nearly black. A bolt loosened by some 5% will be visibly discernable, and a bolt loosened by 10% will revert back to the original bright yellow indication. When doing maintenance, a glance is sufficient-a "grass green" bolt is doing its job! The tension-indicating mechanism has no moving parts in the usual sense, operating entirely by elastic flexure and fluid migration. As a result, the indication is completely reversible and may be operated innumerable times without wear or degradation. This also contributes to its resistance to any degradation from the rather severe vibration levels present in helicopters. The bolts have, in fact, passed the Army's demanding shock and vibration analysis tests and are continuing in the process leading to airworthiness certification. Army origins. Since the HR SmartBolts were only recently developed under an Army contract, the full range of possible applications has yet to be revealed. One early adopter, however, is the Intel Corporation, whose engineers are applying M10 HR SmartBolts to ensure precise clamping pressures on semiconductor wafer processing equipment. The HR technology promises to provide the Army and engineers in diverse industries with precise knowledge and assurance about fastener clamping tension in critical joints. Applications which have benefited from the bolt are any in which its critical that the proper preload be applied and continually verified. Such applications usually also involve high safety and liability factors. Some examples are manufacturing equipment, large presses and rolling equipment, and heavy construction vehicles as well, such as earthmovers, bulldozers and cranes. It is not always components in motion that may benefit, however. General Electric, a client of Stress Indicators, utilizes the bolts to ensure that electrical busway joints are properly tensioned, which is a static application. A loose bolt in that situation could mean a heat buildup or loss of current. An additional benefit comes to facilities may not even possess equipment such as torque wrenches to check or even install the bolts. SmartBolts can be applied with ordinary wrenches, and can then be visually inspected thereafter. Has the age of the torque wrench come to an end? Probably not, but at least in many cases, it can take a rest. For more information about HR SmartBolt and other products contact Stress Indicators, Inc., 205 Perry Parkway, Gaithersburg, MD 20877, Phone:240-631-7246 E-mail: inquiries@smartbolts.com . Or visit our website at www.smartbolts.com
More from Packaging Products & Equipment